Event Details
Date
February 18, 2014
Time
9:00 AM - 12:30 PM
Location
CCE Ontario County
480 North Main St
Canandaigua, NY 14424
Cost
This event is free.
Host
Cornell Vegetable Program
Carol MacNeil
585-394-3977 x406
email Carol MacNeil
Pre-Registration Deadline: February 14, 2014

EVENT HAS PASSED
Forum on Cover Crops and Soil Health: Harvesting the Potential
February 18, 2014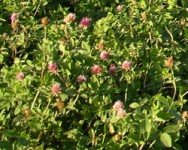 Soil health is a new initiative of the USDA Natural Resources Conservation Service (NRCS). The National Conference on Cover Crops & Soil Health in Omaha kicks off this major effort. The beginning of the conference will be broadcast by live webinar on Tuesday, February 18, to Cornell Cooperative Extension of Ontario County, Canandaigua, NY. A free meeting featuring the webinar will begin at 9:00 AM with registration and soil health demonstrations. Howard G. Buffett, and Secretary of Agriculture Tom Vilsack, will lead the webinar by discussing: The Big Picture: Conservation, Cover Crops and Soil Health. Howard Buffett is an IL farmer, a conservationist and a philanthropist.
Four Midwest cash crop farmers, Dan DeSutter, IN, Dave Brandt, OH, Clay Mitchell, IA, and Gabe Brown, ND, noted for their focus on soil health, cover crops and conservation tillage, as well as farm profitability, will describe the benefits from their soil management. Their diverse cover crop use ranges from cereal rye and ryegrass, to crimson clover, hairy vetch, and oilseed radishes. After the webinar there will be discussion, planning for Grower Discussion Group meetings and summer field days, and info on assistance for good soil health management, from Dan Weykman, USDA-NRCS, Canandaigua, and Carol MacNeil, Cornell Cooperative Extension Regional Vegetable Program.
Preregister by Friday, February 14, 2014 with
Carol MacNeil
. In case of bad weather and possibility of cancellation, or for special needs, call Carol MacNeil.
Funded by the USDA-NIFA Sustainable Agriculture Research and Education (SARE) program and the Howard G. Buffett Foundation. Organized by USDA-NRCS staff, the Midwest Cover Crops Council, and the Soil and Water Conservation Society.
Forum on Cover Crops & Soil Health Agenda (PDF; 539KB)