Event Details
Date
February 8, 2014
Time
Saturday, 10am - 12pm
Location
Cuba Catholic Church
50 South St
Cuba, NY 14727
Cost
$10.00 Contact Elizabeth Buck to pre-reg. Pay at door.




At the Door
$10.00

Host
Cornell Vegetable Program
Elizabeth Buck
email Elizabeth Buck
Pre-Registration Deadline: February 4, 2014
Walk and Talk: Crop Planning
February 8, 2014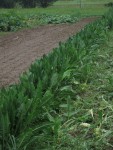 A special Saturday session of the Walk & Talk discussion group focused on crop planning. All growers are welcome to attend.
Crop planning involves taking a broader look at your farm, evaluating your upcoming season as part of a larger, longer term production system. Crop planning involves not only rotational planning, but soil health, nutrient management, pest/disease/weed control, and farm business management.
Cost: $10. Pre-register by contacting
Elizabeth Buck
but pay at the door.