Event Details
Date
February 19, 2014
Time
9:30 AM - 3:30 PM
Location
Holiday Inn - Syracuse-Liverpool
I-90, exit 37 / 441 Electronics Parkway
Liverpool, NY 13088
Cost
This event is free.
Host
Don Halseth
607-255-5460
email Don Halseth
Pre-Registration Deadline: February 14, 2014
Potato Short Course - Disease Management and Variety Development
February 19, 2014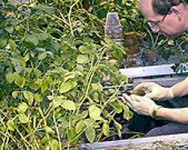 Simplot: genetic engineering for higher quality, disease resistance; Amanda Gevens, U WI: field/storage disease management; Cornell potato breeding, and licensing varieties; Using the Late Blight Decision Support System - Carol MacNeil, CCE Cornell Vegetable Program, and Ian Small, Cornell Plant Pathology. See the full agenda below. (Bring a laptop or let us know if you will need to borrow one!)
DEC pesticide credits available!
Free! Pay for lunch off menu.
For more info and to pre-register, contact
Don Halseth
at 607-255-5460.
Sponsored by the Empire State Potato Growers, Inc.
2014 Potato Short Course Agenda (PDF; 439KB)