Event Details
Date
March 20, 2014
Time
9am - 12:00 pm
Location
Jordan Hall, NYSAES
630 W. North St
Geneva, NY 14456
Cost
$15.00 CVP enrollee
(additional attendee $15.00 ea.)

$25.00 non-enrollee
(additional attendee $25.00 ea.)
Pre-register to Karen Krysa, but pay at the door



At the Door
$15.00 CVP enrollee
$25.00 non-enrollee
Pre-reg to Karen Krysa, but pay at door

Host
Cornell Vegetable Program
Karen Krysa
716-433-8839 x221
email Karen Krysa
Pre-Registration Deadline: March 18, 2014
Trickle Irrigation/Fertigation Workshop - Cancelled
March 20, 2014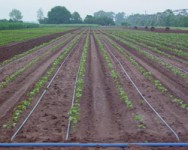 This workshop will provide details on "how-to" for size and setting up trickle irrigation and fertigation set-up and operation.
Dr. Bill Lamont (Penn State) will give an in depth look at setting up and using a trickle irrigation system. Dr. Steve Reiners (Cornell) will walk participants through the math and other considerations related to fertigation systems.
Cost is $15 for CVP enrollees, $25 otherwise. Please pre-register by contacting Karen Krysa at 716-433-8839 x221 or
email Karen
with your name, address, phone number and the name of the event by March 18.
We request pre-registration so organizers can adequately prepare, but note that payment will be at the door.