Northeast Beginning Farmer Project Online Courses
January 12 - April 19, 2016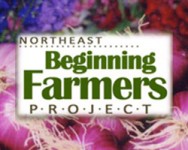 The Cornell Small Farms Program is pleased to announce the winter roster of online courses available through its Northeast Beginning Farmer Project. These courses help farmers learn from the latest research-based education.
Winter 2016 Online Course List
BF 102: Markets and Profits - Exploring the Feasibility of Your Farming Ideas
, Jan 14 - Feb 28
BF 120: Veggie Farming - From Planning to Planting
, Jan 13 - Feb 17.
This course will help new or aspiring vegetable producers to answer basic questions about site selection, crop rotation, seeding and transplants, and financial aspects of veggie production. Topics including variety selection, pre-plant preparation, and cultivation will be covered. Cornell Vegetable Program Specialist Darcy Telenko is an instructor. Don't miss BF 121, the continuation of this course, which takes you through the remainder of the growing season into harvest, post-harvest handling, and marketing.
This course is for serious aspiring farmers planning farm start-up within the next year, or those with 1-3 growing seasons of vegetable farming experience. Because the pest complex, production systems and appropriate varieties vary so much from region to region, this course targets farmers in the Northeastern United States. Farmers outside the region are welcome to register, but should do so knowing that some of the information presented may not be appropriate for their region.
At the end of this course, you will:
Understand the characteristics of a viable site for commercial vegetable crop production and how to alter that site if necessary.

Understand the importance of cover-cropping, IPM, and proper pre-plant preparation.

Be able to develop a basic whole farm plan, which will help you keep records, manage time more effectively, and price products.

Have a good understanding of the full season of tasks involved in vegetable farming - from pre-plant to post-harvest considerations.

Know where to go to find reliable, fact based resource material on topics related to vegetable farming.
BF 140: Small-scale Organic Grain Production - Is it Right for Your Farm?
, Jan 19 - Feb 23
BF 151: Intro to Maple Syrup Production
, Jan 12 - Feb 16

BF 201: Effective Marketing - Sell Smarter, Not Harder
, Jan 11 - Feb 21
BF 203: Holistic Financial Planning - Building Profit into the Picture
, Jan 20 - Feb 24
BF 231: Grazing Management - Improving Your Triple Bottom Line
, Jan 14 - Feb 18
BF 121: Veggie Farming - From Season-Long Care to Market
, Feb 24 - Mar 23.
This course will take you from transplanting to harvest, including information on in-season fertility; integrated pest management including pest ID and control; weed control options; harvesting strategies; and tips for marketing your products. Be prepared to create an in-season fertility and pest/weed control plan as part of this course. Weekly homework will focus on preparing you to make good decisions in the coming growing season. CVP Specialist Darcy Telenko is an instructor.
This course is for serious aspiring farmers or those with at least one growing season of vegetable farming experience. You should already have a basic understanding of how to select crops, manage bed prep, seeding, and transplanting. This course is focused specifically on production systems used in the Northeast, so is targeted to people farming in that region.
By the end of this course, you will be able to:
Make good decisions about fertility management for your specific crops;

Understand options available for weed, pest, and disease control;

Be able to identify problem weeds, pests and diseases on your farm; and

Learn successful harvesting and marketing strategies.
BF 150: Farm-Scale Mushroom Production - For Fun and Profit
, Feb 23 - March 29
BF 202: Planning to Stay in Business - Writing Your Business Plan
, Feb 4 - March 10
BF 103: Taking Care of Business - Understanding the Business, Regulatory, and Tax Implications of Your Farm
, Mar 7 - Apr 11
BF 220: Season Extension with High Tunnels - Know Before You Grow
, Mar 22 - Apr 19.
Adding weeks to either end of your growing season can mean attaining a premium for having products available well before (or long after) other local growers. But the structures that make this possible-unheated plastic-covered "high tunnels" or "hoophouses"-can cost a lot of money, and they bring special management considerations that need to be understood in order to be profitable additions to your farm. Cornell Vegetable Program Specialist Judson Reid is an instructor.
This course is meant for farmers who already have some experience successfully growing vegetables outdoors and are exploring high tunnels as a way to expand the season or improve plant quality. Information will be focused on using high tunnels in colder climates (US Climate Zones 4-6), but can be adapted to other growing regions.
By the end of this course growers will have the knowledge to do the following:
Complete a basic site assessment and know when to bring in experts to discuss site limitations

Make decisions to improve or maintain their soil health and fertility in the tunnel

Select an appropriate high tunnel structure for their site, climate, and production needs

Select and grow appropriate cold and/or warm season crops for the tunnel

Employ pest control and trouble-shooting strategies for high tunnels

Decide if high tunnels make economic, environmental, and social sense on the farm
Each course is $200, but up to 4 people from the same farm may participate without paying extra.
See the course description page for more on the course learning objectives, instructors, and outline.

Courses often fill very quickly, so don't miss your chance to sign up today! Visit the Northeast Beginning Farmers Project website for more information.