Event Details
Date
February 29, 2016
Time
1:00 PM - 4:00 PM
Location
CCE Ontario County (remote location CCE Erie)
Canandaigua and East Aurora, NY
Cost
This event is free.
Host
Cornell Vegetable Program
Carol MacNeil
585-313-8796
email Carol MacNeil
Pre-Registration Deadline: February 24, 2016

EVENT HAS PASSED
Forecasting Potato/Tomato Late Blight Risk for YOUR Farm
February 29, 2016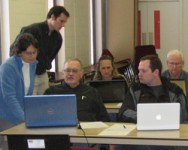 Learn how to use the late blight forecast tool on your farm. Participants will set up their personal farm accounts on the Late Blight Decision Support System (DSS) website, defining the location of their farm/fields, and their varieties. Users can sign up for email/text alerts regarding when fungicide sprays are needed. Once basic farm/crop information is in a user's account, they can access DSS reports and input fungicide sprays by smartphone or tablet.

A laptop computer capable of wireless internet access is needed for the workshop. If you need to borrow a laptop or have questions about the workshop or the LB Decision Support System contact Carol MacNeil.

* * * * * This event will be hosted at CCE Ontario County, 480 N Main St in Canandaigua. However, the event will also be broadcast at CCE Erie County, 21 S Grove St, East Aurora, NY 14052. If you wish to attend the Erie County location, please contact Eva McKendry at 716-652-5400 x150 or email Eva with your name, phone number and town. * * * * *


AGENDA:
1:00 PM

Introductions and sign-up for NYS DEC Pesticide Credits (bring your ID card and stay until the end)

1:15

Brief review of late blight (LB) identification, risk factors, management - Carol MacNeil, CCE Cornell Vegetable Program

1:30

Using the LB Decision Support System (DSS) forecast
- NYS IPM, Cornell, and Cornell Vegetable Program
- Introduction to the LB DSS
- Logging on - Designating your farm location, varieties & planting date
- Inputting sprays online or by smart phone, choosing a weather station
- Signing up for text/email alerts
Growers/consultants set up their farms on the DSS
- with Cornell/CCE assistance
2:20
Break
2:30
Using the LB Decision Support System (DSS) continued:
- DSS outputs, interpretation and using the info on your farm -
- Incorporating irrigation into DSS, simulating alternative spray programs, Infection Risk Tool (from LB confirmations beyond your farm)
Growers/consultants explore DSS outputs, LB risk from infected fields, irrigation, simulations, etc
- with Cornell/CCE assistance
3:20
Your own on-farm weather station for more accurate forecasts
- John Gibbons, NYS IPM Program and CCE Cornell Vegetable Program
3:40
Questions and answers
4:00 PM
Adjourn and receive DEC pesticide certificates
FREE - but pre-registration is required by February 24. Pre-register online or by contacting
Carol MacNeil
.
DEC and CCA credits will be available if you have not taken the class before.