Event Details
Date
June 26, 2017
Time
9:30 AM - 4:00 PM
Location
CVP Fresh Market Demo Site at Partridge's on the Farm Market
4924 Ellicott St Rd (Route 63)
Batavia, NY 14020
Cost
$25.00 CVP enrollees
(additional attendee $25.00 ea.)

$35.00 non-CVP enrollee
(additional attendee $35.00 ea.)
includes lunch if pre-registered, handouts



At the Door
$35.00 At-the-door pricing
includes information packet and lunch (cannot be guaranteed unless you have pre-registered)

Host
Cornell Vegetable Program
Darcy Telenko
716-697-4965
email Darcy Telenko
Pre-Registration Deadline: June 23, 2017

EVENT HAS PASSED
2017 Fresh Market Vegetable Field Day
June 26, 2017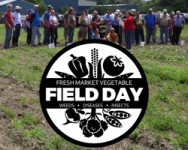 View demonstration plots to exemplify sustainable pest management options for fresh market vegetable production. In addition to the demonstration plots, sessions will be offered throughout the day on weed and disease identification and biology, resistance management, and GAPs/FSMA updates by CVP team members. Regional equipment dealers and industry representatives will be onsite to display equipment and new technology. CCA and 3.0 DEC credits (categories 10, 1a, and 23) will be available.
TOPICS
Weed Management Tools for Fresh Market Vegetables -
Darcy Telenko, CCE Cornell Vegetable Program
This session will introduce basic weed biology, identification, and weed management tools in vegetables. Results from 2016 research on new herbicides and their efficacy in managing weeds will be presented along with an overview of the current tools available for both conventional and organic weed management. These will include tillage, competition, crop rotation, stale seed bed technique, cultural practices, fertility and herbicides. Examples of seeds, seedlings, and mature plants will be presented. The importance of correct weed identification, creating a weed map, and reducing the seed bank will be covered. Growers will be encouraged to actively participate and ask questions.
Fresh Market Vegetable Plot Tour
Tomato varieties and organic spray programs for disease management
Cucumber varieties and organic spray programs for downy mildew
Herbicide options in sweet corn
Stale-seedbed techniques for weed management in root crops
Weed management in root crops and zucchini
GAPS/FSMA Update

Garlic: Introduction and Tour of the Trials
- Christy Hoepting and Robert Hadad, CCE Cornell Vegetable Program

Christy and Robert will review cultural and organic products available for fusarium management in garlic as growers can view research trials.
Garlic: Q&A about Soil Borne Diseases
- Christy Hoepting and Robert Hadad

Growers are encouraged to bring their garlic questions! A discussion of garlic diseases, management options, and best management practices to reduce soilborne diseases and pests of garlic.

Pest Management in Tomato, Pepper and Eggplant
- Judson Reid, CCE Cornell Vegetable Program

Judson will discuss the major diseases in tomato, pepper and eggplant in New York. Topics to be covered include: scouting -- where, how and when; identifying the pests; checking for management issues that may improve or decrease disease control; and control options. Information will be provided for both conventional and organic growers at all levels of expertise.
New Market Opportunities

Open discussion of new opportunities and a tour of the new farm-to-table FreshLab in Batavia.
Cost: $25 Cornell Vegetable Program enrollees; $35 all others. Lunch is guaranteed for those that pre-register by June 23.
We appreciate the support of Arctic Refrigeration, BASF, BioSafe Systems, Empire Tractor, KeyPlex Biopesticides, NutriAg USA, Oro Agri, Seedway, Siegers Seeds, and Stokes Seeds
.