Event Details
Date
June 13, 2017
Time
9:00 AM - 10:00 AM
Location
Knead the Dough
3678 Ransomville Rd
Ransomville, NY 14131
Cost
This event is free.
Host
Cornell Vegetable Program
Darcy Telenko
716-697-4965
email Darcy Telenko
Fresh Market Minutes - Ransomville
June 13, 2017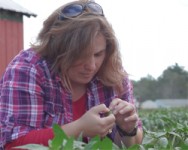 Meet with the Cornell Vegetable Program Specialist Darcy Telenko every other Tuesday morning to ask questions and share your observations in fresh market vegetables.
Come chat with Darcy at Knead the Dough restaurant for coffee on the second and fourth Tuesdays starting June 13 through September 5 between 9:00 am and 10:00 am.