Event Details
Date
June 11, 2019
Time
8:30 - 9:30 AM
Location
Elba Muck
Corner of Transit and Spoilbank
Elba, NY
Cost
This event is free.
Host
Cornell Vegetable Program
Christy Hoepting
585-721-6953
email Christy Hoepting
Muck Donut Hour Every Tuesday
June 11, 2019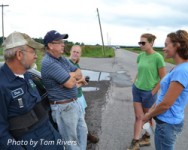 Join Cornell Vegetable Program Specialist Christy Hoepting every Tuesday morning at the corner of Transit Rd and Spoilbank Rd in the Elba muck to ask questions and share your observations. Grower experience is combined with research and scouting information for a whole lot of talk about growing ONIONS!
The donuts are on us!