Event Details
Date
October 4, 2017
Time
4:00 PM - 7:00 PM
Location
Canticle Farm
3835 S Nine Mile Rd
Allegany, NY 14706
Cost
$15.00 /individual


$25.00 for two or more people from the same farm



Host
NOFA-NY

NOFA-NY On-Farm Field Days
Season Extension - Stretching Tomato Season and Winter Greens
October 4, 2017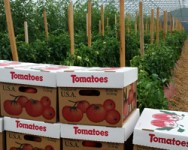 What do you need to do to stretch out your high tunnel tomato season or establish a profitable crop of winter greens? Meeting the full season's nutritional demands of tomatoes under organic management is challenging. Juggling diverse succession crops and keeping the tunnel profitable year round adds an extra level of difficulty. Mark Printz of Canticle Farm will share his experiences.
NOFA-NY
and the Cornell Vegetable Program will discuss what they are learning through the New York Farm Viability Institute funded initiative, "Best Management Practices for Long Term Profitable High Tunnel Soil Fertility and Health."
This event is produced by NOFA-NY with support from the New York Farm Viability Institute.
This is one of the
2017 On-Farm Field Days
hosted by NOFA-NY. Pre-registration is strongly encouraged for all field days, if you will be paying with a credit card. If paying with cash or check, you will register on-site. There is no need to pre-register online if paying with cash or check, just show up!
Enter your information to see details on each Field Day, and register for those you are interested in! All costs will be $15/individual, $25 for two or more people from same farm, unless otherwise noted.