Event Details
Date
October 17, 2017
Time
9:30 AM - 3:00 PM
Location
NYS Agricultural Experiment Station
630 W North St, Jordan Hall
Geneva, NY 14456
Cost
$25.00 per person



Host
CVP, Lake Ontario Fruit Team, and NOFA-NY
Robert Hadad
585-739-4065
email Robert Hadad
Farm Food Safety and Purchasing Locally Grown Produce: What's It All Mean?
October 17, 2017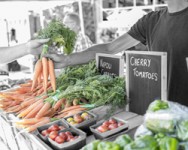 Attention locally-grown food buyers, purchasers, distributors, farm-to-school or -institution programs, chefs, and healthy eating programmers:

Cornell Cooperative Extension through the Cornell Vegetable Program, the Lake Ontario Fruit Team, and NOFANY is presenting an educational session on farm food safety for all types of locally grown food buyers.
Every person that buys locally grown produce directly from farmers should have a basic understanding of the food safety guidelines and practices that the farmers follow. What is GAPs and why is it important to me? This training will allow you to ask your questions and you will leave having a clearer understanding of standards, regulatory requirements, and the practices followed by farmers to reduce microbial risk.
This workshop will cover programs like Good Agricultural Practices (GAPs) and Harmonized GAPs (HGAPs) as well as the new federal regulations under the Food Safety Modernization Act. We will also discuss the regulations governing locally processed foods.
Cost: $25/attendee