Event Details
Date
November 29, 2017
Time
8:30 AM - 4:30 PM
Location
NYS Fairgrounds
Arts & Home Center
Syracuse, NY
Cost
$25.00 attendee

includes lunch catered by Laci's Tapas Bar


Host
Cornell Small Farms Program and NY Farmer Veteran Coalition

Cornell Small Farms Program
Pre-Registration Deadline: November 15, 2017
NY Veterans in Agriculture Summit
November 29, 2017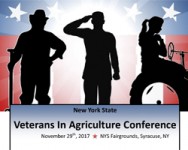 Join the Cornell Small Farms Program and New York Farmer Veteran Coalition, Inc, for a celebration of our state's farmer veterans! Learn about resources that are available to farmer veterans in the state and participate in educational sessions on topics including animal health, financial management, high tunnels, and business planning.
This event will take place on November 29 from 9 am to 4:30 pm at the Art & Home Center at the New York State Fairgrounds in Syracuse. A networking reception will take place from 4:30 to 6 pm on the 29th, following the conference.
A full agenda for the day is now available
.
The day will begin with opening remarks from Commissioner Ball and Senator Ritchie, and includes a celebration launching the New York Farmer Veteran Coalition. Julia Shanks will be a special guest speaker, and will share information about business planning and sustainability. Service providers around the state will also be present to share materials and resources. Come gather for a day of education and networking.
Registration closes November 15. Cost: $25.00 for registration. Includes refreshments and a delicious locally sourced lunch for the day.
Partial scholarships are available for military veterans and on an as needed basis. For questions or to apply for a scholarship, please contact Dean Koyanagi at 607-255-9911 or
drk5@cornell.edu
. Scholarship requests must be submitted by November 15.
More information and registration is available through the Cornell Small Farms Program
.
This event is hosted by the Cornell Small Farms Program and the New York Farmer Veteran Coalition, Inc, and is co-sponsored by Farm Credit East, the New York State Department of Agriculture & Markets, the New York Farm Bureau, and the National Institute of Food and Agriculture, U.S. Department of Agriculture, under award number 2015-70017-22882.