Event Details
Date
February 8, 2018
Time
6:00 PM - 8:00 PM
Location
Frank W. Bratt Agricultural Center
3542 Turner Rd
Jamestown, NY 14701
Host
CCE Chautauqua County
Katelyn Walley-Stoll
716-664-9502 x202
email Katelyn Walley-Stoll
Vegetable Fertility Considerations for Season Extension
February 8, 2018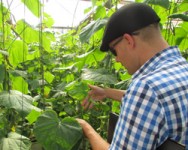 Cornell Cooperative Extension Chautauqua County's Agriculture Program is excited to announce upcoming educational workshops for interested agriculturists. The L.E.A.F (Learn. Empower. Achieve. Farm.) Series is open to beginning farmers, established farms looking to diversify and grow, agriculture enthusiasts, homesteaders, and everyone in between! A variety of class topics will be presented through the fall and winter months for a nominal fee.
Interested in pushing your fruits and vegetables further with season extension techniques? Mulch, low tunnels, high tunnels and greenhouses all can increase yield and harvest window, but require a different fertility approach. In this session, we will discuss how to provide adequate nutrients to your crops without overloading the soil. By taking a balanced approach we can assure long-term, high yielding soils. Nitrogen, phosphorus, potassium and much more! Judson Reid, Extension Vegetable Specialist with the Cornell Vegetable Program, will be the leader of this interactive workshop.
Pre-registration is required. Visit the
CCE Chautauqua website for more information
.