Event Details
Date
February 1, 2018
Time
8:00 AM registration, 8:30 AM - 3:30 PM program
Location
Irondequoit Public Library
1290 Titus Ave
Irondequoit, NY 14617
Cost
This event is free.
FREE if pre-registered by January 26

At the Door
$20.00 per person (and lunch cannot be guaranteed)

Host
Cornell Vegetable Program
Darcy Telenko
716-652-5400 x178
email Darcy Telenko
Pre-Registration Deadline: January 26, 2018

EVENT HAS PASSED
2018 Western NY Fresh Market Winter Vegetable Meeting (Eastern location)
February 1, 2018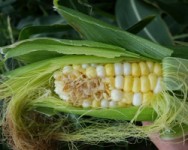 A regional meeting to discuss results from 2017 research trials and present information on pest management. Research and outreach programs supported by NY Farm Viability Institute. 3.0 DEC credits available to those that attend the entire meeting.


8:00 AM

Registration, DEC/CCA sign-up, coffee

8:30

Pest Management in Vegetables
New management options including host resistance, products, or techniques that are available will be discussed in this session. Information will be provided for both conventional and organic growers at all levels of expertise.



Darcy Telenko, CCE Cornell Vegetable Program


The biopesticide market has rapidly been expanding and many have become prominent tools in crop management. There are over 300 active ingredients registered with the EPA, with many approved for organic production. Interest in this new class of products is also occurring in conventionally grown crops.
Many growers who have already incorporated biofungicides into their disease management programs feel they are improving disease control and/or crop health due to resistance-inducing activity. Dr. Telenko will discuss how biocontrols can be used, how they work and when they don't.

Julie Kikkert, CCE Cornell Vegetable Program
A healthy, strong leaf is required for table beet harvest, therefore leaf disease management is extremely important to maintain yield. Dr. Kikkert will discuss current research programs and management options for the various leaf spot diseases in beet.

Darcy Telenko, CCE Cornell Vegetable Program
Pest monitoring is important to determine the appropriate management options in vegetables. Darcy will talk about a new iPiPE program to monitor and track pests to help implement IPM practices on your farm.

9:30

Coffee Brea

k

sponsored by NYFVI Precision Ag Project

9:45

Marketing Your Product
Chad Heeb, Director of Marketing and Sales for New York Chips
Value-Added Provides New Market Opportunity

Megan Burley, CCE Erie County
Marketing to Millennials

10:45

Open Discussion of Disease Issues and Management Options
Judson Reid, CCE Cornell Vegetable Program
Judson will lead a discussion on 2017 pest issues and review the best crop production practices for managing them. This may include host resistance, pesticides, or techniques that are available to minimize pest damage. Information will be provided for both conventional and organic growers at all levels of expertise.

11:15

Precision Irrigation for Vegetables Update and Need for 2018 Collaborators
Darcy Telenko, CCE Cornell Vegetable Program
Water and nutrient management are key to sustainable and profitable crop production. Join Darcy and Environmental Geophysicist, Erasmus Oware, from the University of Buffalo as they talk about precision irrigation opportunities for growers -- how and why we should irrigate. In addition, they will give an update on this partnership in a NYFVI sponsored project in using soil electrical conductivity measurements for precision water management in vegetable crops in western NY. This project aims to identify a novel technique that can account for sub-field soil variability for efficient water and nutrient management practices. They are looking for additional cooperators for 2018.

11:35

Crop Insurance Update
Jennifer Ifft, Assistant Professor, Charles H. Dyson School of Applied Economics and Management, Cornell University
Dr. Ifft will provide an update on relevant single-crop and Whole-Farm Revenue Protection insurance products, with time for discussion and feedback on current crop insurance and risk management issues.

12:00 Noon

Lunch sponsored by NYFVI Wildlife Project

1:00

Wildlife Management in Vegetable Crops Workshop
Darcy Telenko, CCE Cornell Vegetable Program
Darcy Telenko will lead this session to discuss current wildlife management issues and talk about research trials looking at chemical and mechanical options to minimize wildlife damage, particularly birds in sweet corn. Darcy will be joined remotely by Dr. Rebecca Brown, University of Rhode Island, to discuss their new laser scarecrow and its effectiveness in preventing bird damage in sweet corn.



Paul Curtis, Cornell University


Paul Curtis, Extension Wildlife Specialist, Department of Natural Resources Cornell University will join remotely to discuss options for goose management on your farm -- when and how to implement deterrence to minimize damage to agricultural crops.

A member of the DEC deer program team will also join the program to discuss issues of deer overabundance and the NYS DEC deer program.

We will end this workshop with an open discussion with a grower panel on wildlife damages that they have experienced this season and discuss the tools that are being implemented, their efficacy and best management practices.

3:15 - 3:30 PM

Adjourn and pick up DEC credits



Cost: FREE to those that pre-register by Friday, January 2

6

so that we can get a lunch headcount. $20/person at the door for those that have not pre-registered. Call 716-652-5400 to pre-register. Special accommodations (dietary or other) should be requested by January 26.