Event Details
Date
Mar 6 - Apr 10, 2018
Time
Every Tuesday, 6:30 PM - 8:00 PM
Location
webinar

Cost
$250.00



Host
Cornell Small Farms Program

Season Extension with High Tunnels: Know Before You Grow
March 6 - April 10, 2018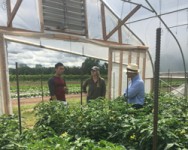 Adding weeks to either end of your growing season can mean attaining a premium for having products available well before (or long after) other local growers. But the structures that make this possible --(unheated plastic-covered "high tunnels" or "hoop houses") can cost a lot of money, and they bring special management considerations that need to be understood in order to be profitable additions to your farm.
Offered as an online course through the Cornell Small Farms Program, this course (BF220) is meant for farmers who already have some experience successfully growing vegetables outdoors and are exploring high tunnels as a way to expand the season or improve plant quality. Information will be focused on using high tunnels in colder climates (US Climate Zones 4-6), but can be adapted to other growing regions.

Course Objectives

By the end of this course growers will have the knowledge to do the following:
Complete a basic site assessment and know when to bring in experts to discuss site limitations
Make decisions to improve or maintain their soil health and fertility in the tunnel
Select an appropriate high tunnel structure for their site, climate, and production needs
Select and grow appropriate cold and/or warm season crops for the tunnel
Employ pest control and trouble-shooting strategies for high tunnels
Decide if high tunnels make economic, environmental, and social sense on the farm
Webinars
The bulk of the course happens on your own time, with discussions, readings, and assignments in MOODLE, our virtual classroom. To add to the experience, webinars will be woven into the online interface of the course to allow you to meet on a weekly basis to learn from outside presenters, ask questions, and collaborate with other participants and the instructor to address your farm issues in real time. If you miss one, they are always recorded and posted for later viewing. Access details will be posted in MOODLE once you have registered and logged in.
Instructors
Judson Reid, regional vegetable specialist with the CCE Cornell Vegetable Program.
Crystal Stewart, regional vegetable specialist with the CCE Eastern New York Commercial Horticulture Program.
Dates
March 6 - April 10, 2018, with webinars every Tuesday evening from 6:30-8pm Eastern time. Webinars will be recorded for later viewing.
Course Outline
Week One: Soil testing and site assessment
Topics covered: Assessing a good site for high tunnels, taking a soil sample and interpreting soil test results, creating a nutrient management plan that emphasizes long-term soil health and crop quality.
Week Two: Selecting an appropriate structure
Topics covered: Key considerations in tunnel selection including durability, adaptability, movability.
Week Three: Warm season crops
Topics covered: Growing tropical-origin plants like tomatoes and cucumbers, variety selection, planting best-practices, precise use of cultural practices including pruning and trellising.
Week Four: Cold season crops
Topics covered: Growing hearty crops through the winter, common varieties, planting best practices, and harvesting considerations.
Week Five: Pest Control and Trouble Shooting
Topics covered: Redefine pest control strategies for high tunnels, common challenges, preventing problems before they occur.
Week Six: Pulling it all together
Topics covered: Is high tunnel growing a good fit for your farm? Looking at the whole picture of economic, environmental, and social considerations, we will help growers ask this question of their operations.
Cost and Registration
Fee for this course is $250.
Sign up a month or more in advance of the start date and receive $25 off. Sign up for three or more courses and received $50 off your total. Register online through the Cornell Small Farms Program.