Event Details
Date
February 13, 2018
Time
9:45 AM - 2:00 PM
Location
Dutch Village
8729 East Main St
Clymer, NY 14724
Cost
$20.00 per person



Host
CCE Chautauqua County

716-664-9502 x209
Pre-Registration Deadline: February 8, 2018
2018 Chautauqua Produce Auction Growers Meeting
February 13, 2018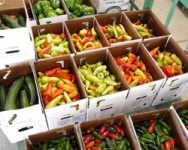 This course will educate growers on disease and pest management, food safety regulations and soil health for vegetables.
9:45 am
Coffee, registration
10:00
Welcome, overview - Judson Reid, CCE Cornell Vegetable Program
10:05
Produce Pests and Diseases of Concern in 2018: Tomatoes, Peppers, Eggplant - Judson Reid
10:30
Food Safety on the GAP level - Bennie Yoder, Food Safety Team, Somerset PA.
11:30
Lunch
12:30
Making Money with Produce - Moses Yoder, Somerset PA
1:15
Soil and Foliar Sampling for Produce Quality - Judson Reid
2:00
Adjourn
Please register by calling 716-664-9502 x209 and sending payment ($20 per person, payable to CCE) to:
Cornell Cooperative Extension
Attn: Growers Meeting
3542 Turner Road
Jamestown, NY 14701.

If you plan to pay at the door remember to call and register so we have an accurate count for lunch.