Event Details
Date
February 12, 2018
Time
9:30 AM - 2:30 PM
Location
Centerville Fire Hall
8936 County Rt 3
Centerville, NY 14065
Cost
This event is free.
Host
CCE Allegany County
Lynn Bliven
585-268-7644 x18
email Lynn Bliven
2018 Genesee Valley Produce Auction Growers Meeting
February 12, 2018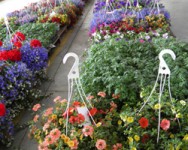 This year's program will included information on growing vegetables and plants. Hear disease and pest management in vegetables, soil nutrient management, grading and packing information, and experience shared by fellow growers. A panel from Finger Lakes Produce Auction and a buyers panel will be featured.
9:30
Coffee and networking
10:00
Welcome and overview - Judson Reid
10:05
Manager's announcements and updates - Emanuel Girod
10:10
Stick with it! Encouragement for Farmers - Panel from Finger Lakes Produce Auction
10:40
Basic of balancing soil nutrients - Junior Yoder, Mt Hope OH
11:20
Ag and Markets Division of Plant Industry updates - Gary Sphar
11:40
Lunch
12:30
Growing Produce Profitably - Jonas Yoder, Mt Hope OH
1:15
Packing and Grading - Megan Burley, CCE Erie
1:45
Buyers Panel
2:15
Pest and Disease management updates - Judson Reid
2:30
Adjourn
There is no charge for the program but donations are appreciated to help defray the cost of the hall and speaker travel. For more information, contact Lynn Bliven at 585-268-7644 x18.