Event Details
Date
August 22, 2018
Time
4:00 PM registration, 4:30-6:30 PM educational program, 7:00 PM dinner
Location
Joe Ferlito Farm field
215 Dutch Ridge Rd
Oswego, NY 13126
Cost
This event is free.
Host
CVP and Oswego Co Veg Growers Improvement Assoc
Christy Hoepting
585-721-6953
email Christy Hoepting
Pre-Registration Deadline: August 20, 2018
Oswego Onion Growers Twilight Meeting
August 22, 2018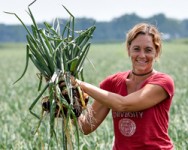 This in-field twilight meeting will feature a tour of Christy Hoepting's fungicide trial for Stemphylium leaf blight and Botrytis leaf blight. Hoepting will share head to head comparisons of FRAC groups, alternatives to FRAC 3 and 7, reduced rates, and fungicide programs. A first look at 2018 results from onion thrips research trials will be presented by Brian Nault and Ashley Leach, Cornell University. Hear about the 2018 onion maggot research trial results and new research initiative with Brian Nault and Erica Moretti. Hoepting will also provide information about a new seed treatment for onion smut control.
2.0 DEC (categories 1a, 4, 10, 23) and 2.0 CCA credits will be available.
This event is hosted by Joe Ferlito Farm and Oswego County Vegetable Growers Improvement Association.
It is FREE to attend thanks to sponsors and Oswego County Vegetable Growers Improvement Association. Dinner at Vona's Restaurant, 9 Willow St, Oswego, NY at 7:00 PM is included.
RSVP for dinner by Monday August 20th to Kathy Stancampiano (
onionstan8@aol.com
or call/text 315-591-3478) would be much appreciated.