Christy Hoepting
Extension Vegetable Specialist
CCE Orleans County
12690 Rt. 31
Albion, NY 14411
phone 585-798-4265 x38
cell 585-721-6953
fax 585-798-5191
email Christy
Areas of Interest
Pesticide Training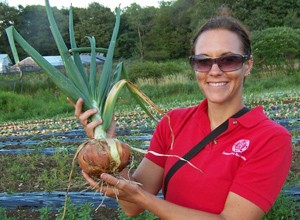 Crops
Broccoli, Brussels Sprouts, Cabbage, Cauliflower, Garlic, Onions
Background

During her bachelor degree studies at the University of Guelph, ON, Canada, Christy Hoepting held several positions focusing on soil quality and muck crop research. Her focus shifted to onions during her master degree studies with her thesis written on Pesticide Interaction in the Management of Onion Maggot and Onion Smut. Christy joined the Cornell Vegetable Program in 2001. Today, much of Christy's time is spent in the field conducting valuable research on onions, cabbage, garlic, and broccoli. She was the recipient of the
2016 Excellence-in-IPM award winner
.
Watch a 2 minute video
on Christy's work in our region.


Upcoming Events
Potato Advisory Meeting
December 12, 2017
10:00 AM - 3:00 PM
Canandaigua, NY
Help set Cornell's potato research priorities! Growers are encouraged to share information about your farm operation and what you consider a problem that research could solve. Let's ensure we collectively work on, and solve, real problems!
2017 Processing Vegetable Crops Advisory Meeting

December 13, 2017
9:30 AM - 2:30 PM
Batavia, NY
All processing vegetable growers and industry members are invited to attend. Discuss the 2017 growing season and management concerns. Reports and discussion of the 2017 Projects funded by the New York Vegetable Research Council/Association. Review priorities and the role of the advisory group in applications for state and federal grants. Give your input on the format of future advisory meetings and future educational programs.
2018 Produce Auction Growers Meeting (Yates County)

January 4, 2018
9:00 AM - 2:30 PM
Penn Yan, NY
This course will educate growers on disease and pest management, varieties and marketing issues in open field and high tunnel vegetables. Topics such as disease resistant varieties, pest/disease, cultural management and appropriate spray options.
Announcements
Available: 2017 Certified Seed Potato Directory
The
2017 NYS Certified Seed Potato Crop Directory
is now available. There is a wealth of information on NYS potato seed certification, as well as on the varieties grown for certification in 2017. The varieties include standards for processing and tablestock, newer varieties and numbered lines, and specialty/heirloom varieties. Brief summaries of the varieties' maturity, appearance, yield potential, and major disease susceptibility are included. Contact info for the growers with seed supplies of each variety is included. There is also a listing of the inspectors from the NYS Department of Agriculture and Markets in Albany and Syracuse.
Growing for Wholesale Guidelines Available
Grading and packing guidelines are now available for 16 commonly grown specialty crops in NYS: broccoli crowns, Brussels sprouts, corn, green peppers, cucumbers, green cabbage, red cabbage, savory cabbage, cauliflower, eggplant, green beans, jalapenos, poblanos, Hungarian hot peppers, summer squash, and zucchini.
Acceptable quality standards and common defects that should be sorted out on the grading line are depicted in these resources, both visually and in outline form. Find all of the
grading sheets here
.
Cornell Vegetable Program - Cornell Cooperative Extension
Your Trusted Source for Research-Based Knowledge