Darcy Telenko
Extension Vegetable Specialist
CCE Erie County
21 South Grove Street
East Aurora, NY 14052
phone 716-652-5400 x178
cell 716-697-4965
fax 716-652-5073
email Darcy
Areas of Interest
Fresh Market Vegetables, Weed & Disease Management, Climate Change Resiliency, Soil Health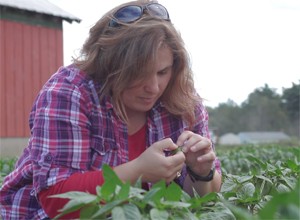 Crops
Cucumbers, Eggplant, Lettuce / Leafy Greens, Melons, Pumpkins / Gourds, Squash - Summer, Squash- Winter, Sweet Corn, Tomatoes
Originally from Batavia, NY, Darcy grew up on a dairy farm and worked extensively in her parents' fruit and vegetable stand. She completed her undergraduate work at Cornell in Biological Sciences and Plant Biology. She completed her MS at Southern Illinois University in Plant and Soil Science, and earned a PhD in Plant Pathology and Crop Science from North Carolina State University. She has much experience in scouting, applied research and interpreting the results for constituents through presentations and extension publications. Darcy joined the Cornell Vegetable Program in May 2014. Darcy frequently visits fresh market farms in our region, providing valuable advice to our growers.
Darcy is also a member of the
Climate Smart Farming
Extension Team and helps NY farms increase resiliency to extreme weather and climate variability through adoption of best management practices for climate change adaptation.


Upcoming Events
NY Veterans in Agriculture Summit
November 29, 2017
8:30 AM - 4:30 PM
Syracuse, NY
Come gather for a day of education and networking. Learn about resources that are available to farmer veterans in New York and participate in educational sessions on topics including animal health, financial management, high tunnels, and business planning.
Second Annual Cut Flower Conference
December 1, 2017
8:00 AM - 4:00 PM
Rensselaerville, NY
Cornell Cooperative Extension's Capital Area Agriculture and Horticulture Program, announces their upcoming Second Annual Cut Flower Conference. The initial Cut Flower Conference, held in 2016, was very popular with established and beginning cut flower growers and growers considering adding cut flowers to their diversified farms.
2017 Processing Vegetable Crops Advisory Meeting

December 13, 2017
9:30 AM - 2:30 PM
Batavia, NY
All processing vegetable growers and industry members are invited to attend. Discuss the 2017 growing season and management concerns. Reports and discussion of the 2017 Projects funded by the New York Vegetable Research Council/Association. Review priorities and the role of the advisory group in applications for state and federal grants. Give your input on the format of future advisory meetings and future educational programs.
Announcements
Available: 2017 Certified Seed Potato Directory
The
2017 NYS Certified Seed Potato Crop Directory
is now available. There is a wealth of information on NYS potato seed certification, as well as on the varieties grown for certification in 2017. The varieties include standards for processing and tablestock, newer varieties and numbered lines, and specialty/heirloom varieties. Brief summaries of the varieties' maturity, appearance, yield potential, and major disease susceptibility are included. Contact info for the growers with seed supplies of each variety is included. There is also a listing of the inspectors from the NYS Department of Agriculture and Markets in Albany and Syracuse.
Growing for Wholesale Guidelines Available
Grading and packing guidelines are now available for 16 commonly grown specialty crops in NYS: broccoli crowns, Brussels sprouts, corn, green peppers, cucumbers, green cabbage, red cabbage, savory cabbage, cauliflower, eggplant, green beans, jalapenos, poblanos, Hungarian hot peppers, summer squash, and zucchini.
Acceptable quality standards and common defects that should be sorted out on the grading line are depicted in these resources, both visually and in outline form. Find all of the
grading sheets here
.
Cornell Vegetable Program - Cornell Cooperative Extension
Your Trusted Source for Research-Based Knowledge