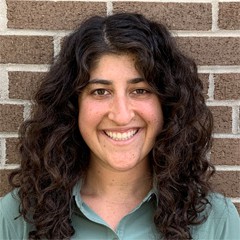 Lori Koenick
Project Assistant
email Lori
Areas of Interest
High Tunnel Soils, Urban Agriculture, Food Safety
For three years prior to joining the Cornell Vegetable Program, Lori worked in extension roles with Cornell Garden-Based Learning and Cornell Cooperative Extension of Monroe County developing community programs focusing on horticulture and food system topics. Lori earned a B.S. in Applied and Environmental Microbiology at West Virginia University followed by a M.S. in Plant Pathology at Cornell University studying disease management strategies in New York table beet production systems.
As a Project Assistant with the Cornell Vegetable Program, Lori manages projects around high tunnel soils, urban agriculture (pest and soil management), as well as food safety.


Upcoming Events
2023 Potato Advisory Meeting

December 12, 2023
Canandaigua, NY
This year's Potato Advisory Meeting will include talks from Cornell faculty on insect pest and weed updates, as well as updates from this year's potato variety trials. Following lunch, there will be a round table discussion with fellow potato growers and industry members. DEC credits: 2.0 credits in 10, 1a, 23. This meeting is FREE to attendees and includes lunch!
2024 Finger Lakes Produce Auction Winter Growers Meeting

January 4, 2024
Penn Yan, NY
This annual meeting will present information on insect and disease management in fresh market vegetables in both field and greenhouse (high tunnel) vegetables, primarily for those growing for wholesale auction. Grafting, biological and, where appropriate, conventional spray options will be discussed. Berry production updates will be provided. A general session will include updates from the Food Safety Modernization Act. Judson Reid, Senior Extension Associate with the Cornell Vegetable Program along with CCE staff will instruct participants and facilitate peer-based learnings. DEC recertification credits will be offered.
Announcements