2017 NYS Certified Seed Potato Crop Directory
Last Modified: October 31, 2017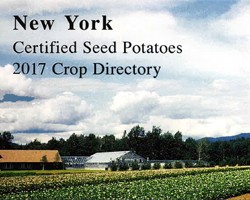 The 2017 NYS Certified Seed Potato Crop Directory is now available. There is a wealth of information on NYS potato seed certification, as well as on the varieties grown for certification in 2017. The varieties include standards for processing and tablestock, newer varieties and numbered lines, and specialty/heirloom varieties. Brief summaries of the varieties' maturity, appearance, yield potential, and major disease susceptibility are included. Contact info for the growers with seed supplies of each variety is included. There is also a listing of the inspectors from the NYS Department of Agriculture and Markets in Albany and Syracuse.
The NYS Certified Seed Potato Program is part of the New York Seed Improvement Project at Cornell. You can email the program or call 607-255-9869.
New York Certified Seed Potatoes 2017 Crop Directory (pdf; 195KB)


Upcoming Events
Sanitation Open House for Fruit and Vegetable Growers
November 29, 2022
Geneva, NY
Come experience several hands-on stations to help jump start and enhance your sanitation program. Try out new cleaning tools, learn how to select the right sanitizer, and assess the cleanability of different equipment.
Farm Food Safety Meeting
December 5, 2022
Newark, NY
This meeting will focus on updates and key considerations in farm food safety. Topics to be covered include agricultural water quality assessments, traceability procedures, tips for improving flow and efficiency in wash/pack facilities, cleaning and sanitation updates, plus plenty of discussion to answer your questions.
GAPs Training -- Understanding Food Safety on the Farm
December 9, 2022
Penn Yan, NY
Join the Cornell Vegetable Program and Cornell Cooperative Extension for a workshop that will provide you with the why's behind food safety recommendations along with practical, farm-based ideas to improve food safety on your farm.
Announcements