Quick Tunnel Instruction Guide - Johnny's Selected Seeds
January 10, 2013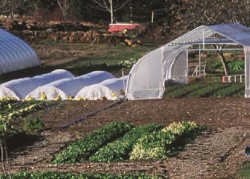 Instruction manual for Quick Hoops Low Tunnel Benders by Johnny's Selected Seeds.
Quick Tunnel Construction Guide by Johnny's Selected Seeds (pdf; 2701KB)


Upcoming Events
Chipping Potato Twilight Meeting

August 25, 2022
Dansville, NY
View the chipping potato variety trial and hear updates from Walter De Jong of Cornell! Mike Mager of Arctic Refrigeration will provide updates in potato storage. Brian Nault, Cornell, and Margie Lund, CCE, will talk about insecticidal rotations for Colorado potato beetle and other potato insect updates. 1.0 DEC (categories 1a, 10, 23) recertification credits are available.
Announcements