Home High Tunnel Construction
Elizabeth Buck, Extension Vegetable Specialist
Cornell Vegetable Program
January 23, 2013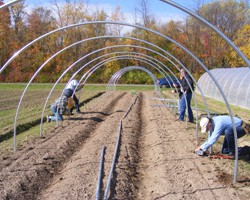 Are you interested in building your own high tunnel? Bowman and Hill Micro Farm hosted an October 18, 2012 Cornell Vegetable Program workshop in which participants learned to build a tunnel - onsite, in one day. This full color, step-by-step workshop transcription includes pictures, helpful hints, and notes about common mistakes.
Part I
Part 1 introduces the farm, lays out the background information, gives specifics on tunnel dimensions, lists all materials needed and includes construction instructions from site preparation to ground post installation.
Part II
Part 2 continues outlining the construction process. Includes information on bending, installing and anchoring hoops.
Part III
Part 3 concludes the construction process, covering ridge-pole installation, plastic attachment, end wall construction and photos of finished tunnels. It also contains links to additional resources.
Additional resources that may be helpful to you:
Quick Tunnel Instruction Guide - Johnny's Selected Seeds (PDF; 2701KB)
Zero Disease Tolerance in High Tunnels (PDF; 216KB)
Part I: General Info from Site Preparation to Ground Post Installation (pdf; 2760KB)


Upcoming Events
2023 Potato Advisory Meeting

December 12, 2023
Canandaigua, NY
This year's Potato Advisory Meeting will include talks from Cornell faculty on insect pest and weed updates, as well as updates from this year's potato variety trials. Following lunch, there will be a round table discussion with fellow potato growers and industry members. DEC credits: 2.0 credits in 10, 1a, 23. This meeting is FREE to attendees and includes lunch!
2024 Finger Lakes Produce Auction Winter Growers Meeting

January 4, 2024
Penn Yan, NY
This annual meeting will present information on insect and disease management in fresh market vegetables in both field and greenhouse (high tunnel) vegetables, primarily for those growing for wholesale auction. Grafting, biological and, where appropriate, conventional spray options will be discussed. Berry production updates will be provided. A general session will include updates from the Food Safety Modernization Act. Judson Reid, Senior Extension Associate with the Cornell Vegetable Program along with CCE staff will instruct participants and facilitate peer-based learnings. DEC recertification credits will be offered.
Announcements