Home High Tunnel Construction
Elizabeth Buck, Extension Vegetable Specialist
Cornell Vegetable Program
January 23, 2013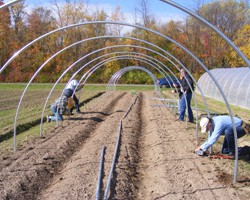 Are you interested in building your own high tunnel? Bowman and Hill Micro Farm hosted an October 18, 2012 Cornell Vegetable Program workshop in which participants learned to build a tunnel - onsite, in one day. This full color, step-by-step workshop transcription includes pictures, helpful hints, and notes about common mistakes.
Part I
Part 1 introduces the farm, lays out the background information, gives specifics on tunnel dimensions, lists all materials needed and includes construction instructions from site preparation to ground post installation.
Part II
Part 2 continues outlining the construction process. Includes information on bending, installing and anchoring hoops.
Part III
Part 3 concludes the construction process, covering ridge-pole installation, plastic attachment, end wall construction and photos of finished tunnels. It also contains links to additional resources.
Additional resources that may be helpful to you:
Quick Tunnel Instruction Guide - Johnny's Selected Seeds (PDF; 2701KB)
Zero Disease Tolerance in High Tunnels (PDF; 216KB)
Part I: General Info from Site Preparation to Ground Post Installation (pdf; 2760KB)


Upcoming Events
2019 Processing Vegetable Crops Advisory Meeting

December 17, 2019
9:30am - 12:10pm, 1pm - 2pm, and 2pm - 3:30pm
Batavia, NY
All are invited to attend and discuss the 2019 season for each crop, meet the new Cornell Weed Scientist and discuss weed management concerns, and receive updates on research conducted during 2019. Separate DEC and CCA credits will be available for each of the 3 crop meetings. The meeting is free of charge and there is no registration required.
2020 Finger Lakes Produce Auction Education Meeting

January 2, 2020
9:00 AM - 2:00 PM
Penn Yan, NY
This meeting is our annual winter educational event for Finger Lakes Produce Auction growers. This year we will focus on farm food safety clarifications, soil health, pepper pests, strawberries, and control of tomato and vine crop diseases through use of biopesticides. 2.5 DEC recertification credits will be available in category 23, and 0.5 credits in category 22.
2020 Ontario Produce Auction Winter Growers Meeting

January 8, 2020
9:00 AM - 2:30 PM
Stanley, NY
This course will educate growers on disease and pest management, varieties and marketing issues in vegetables and small fruit. Topics such as disease resistant varieties, pest/disease, cultural management and appropriate spray options. An anticipated 1.0 hours of content is eligible for re-certification credits.
Announcements