Ethnic Greens Trial, 2012
Robert Hadad, Extension Vegetable Specialist
Cornell Vegetable Program
January 23, 2013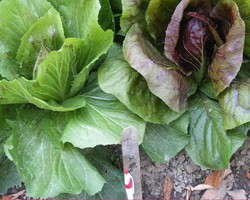 In December 2011, Cornell Vegetable Program Specialist Robert Hadad and Jim Ochterski, CCE of Ontario County, held an ethnic vegetable workshop in Canandaigua, NY. More than 40 farmers attended an all day workshop on the production and marketing of various types of vegetables representing a broad ethnic background. The range of what is available can be as tomatoes, peppers, and squash we are familiar with known by different names by varying cultural communities. Other types of vegetables are quite unique and exotic. As new ethnic groups move into the regions across the state, the marketplace opens up a bit wider to new and exciting vegetables to grow and sell.
The interest from the attendees in exploring growing ethnic vegetables was quite high coming out of the workshop. With a little funding from the Western NY CCE Association group, Robert Hadad launched a two year ethnic vegetable variety and marketing trial. The focus is to see how well assortments of vegetables that represent some different nationalities perform here in WNY under our wildly fluctuating weather conditions and also to see how growers can market these new vegetables, how customers respond to them at the market, and what is needed to reach targeted communities perhaps.
A written overview of the trial is provided below, a list of ethnic vegetable names and seed sources, as well as a presentation providing photos and information on the different greens featured in the trial.
Ethnic Greens Trial Overview (pdf; 312KB)


Upcoming Events
Sanitation Open House for Fruit and Vegetable Growers
November 29, 2022
Geneva, NY
Come experience several hands-on stations to help jump start and enhance your sanitation program. Try out new cleaning tools, learn how to select the right sanitizer, and assess the cleanability of different equipment.
Farm Food Safety Meeting
December 5, 2022
Newark, NY
This meeting will focus on updates and key considerations in farm food safety. Topics to be covered include agricultural water quality assessments, traceability procedures, tips for improving flow and efficiency in wash/pack facilities, cleaning and sanitation updates, plus plenty of discussion to answer your questions.
GAPs Training -- Understanding Food Safety on the Farm
December 9, 2022
Penn Yan, NY
Join the Cornell Vegetable Program and Cornell Cooperative Extension for a workshop that will provide you with the why's behind food safety recommendations along with practical, farm-based ideas to improve food safety on your farm.
Announcements