Guide on How to Purchase at the NYS Produce Auctions
Judson Reid, Extension Vegetable Specialist
Cornell Vegetable Program
Last Modified: March 8, 2018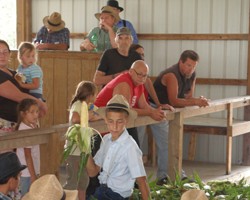 A produce auction is a wholesale market for regionally grown produce. Currently there are eight produce auctions in New York State offering a wide variety of produce at competitive prices. This guide will provide basic information on the terminology of the auction, as well as the step by step process of purchasing produce at these unique markets.
How to Purchase at the New York State Produce Auctions (pdf; 621KB)


Upcoming Events
Chipping Potato Twilight Meeting

August 25, 2022
Dansville, NY
View the chipping potato variety trial and hear updates from Walter De Jong of Cornell! Mike Mager of Arctic Refrigeration will provide updates in potato storage. Brian Nault, Cornell, and Margie Lund, CCE, will talk about insecticidal rotations for Colorado potato beetle and other potato insect updates. 1.0 DEC (categories 1a, 10, 23) recertification credits are available.
Announcements