Food Safety Considerations and Design for Packing Sheds
Robert Hadad, Extension Vegetable Specialist
Cornell Vegetable Program
Last Modified: February 16, 2015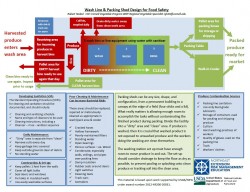 This diagram, showing food safety considerations and design recommendations for packing sheds, is not intended to give actual dimensions and square footage since packing sheds can be any size, shape, and configuration. It can be as formal as a permanent building or a canopy at the edge of a field (four sticks and a lid). What really matters is allowing enough room to accomplish the tasks without spreading contamination into the finished product during packing. If produce washing is done, then it is crucial that unwashed product doesn't come into contact with washed produce and the workers doing the washing are clean themselves.

The washing station set up needs to have enough room to move produce in and out. The equipment set-up should consider good drainage to keep the floor as dry as possible, no pooling, or splashing onto clean produce.
Wash Line and Packing Shed Design for Food Safety (pdf; 333KB)


Upcoming Events
2023 Potato Advisory Meeting

December 12, 2023
Canandaigua, NY
This year's Potato Advisory Meeting will include talks from Cornell faculty on insect pest and weed updates, as well as updates from this year's potato variety trials. Following lunch, there will be a round table discussion with fellow potato growers and industry members. DEC credits: 2.0 credits in 10, 1a, 23. This meeting is FREE to attendees and includes lunch!
2024 Finger Lakes Produce Auction Winter Growers Meeting

January 4, 2024
Penn Yan, NY
This annual meeting will present information on insect and disease management in fresh market vegetables in both field and greenhouse (high tunnel) vegetables, primarily for those growing for wholesale auction. Grafting, biological and, where appropriate, conventional spray options will be discussed. Berry production updates will be provided. A general session will include updates from the Food Safety Modernization Act. Judson Reid, Senior Extension Associate with the Cornell Vegetable Program along with CCE staff will instruct participants and facilitate peer-based learnings. DEC recertification credits will be offered.
Announcements