Grafting of Tomatoes for Soil-based Production in Greenhouses & High Tunnels
Judson Reid, Extension Vegetable Specialist
Cornell Vegetable Program
April 25, 2013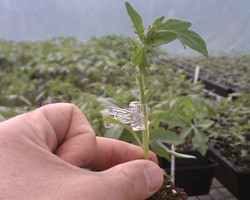 In 2012, the Cornell Vegetable Program conducted trials of grafted cucumbers and tomatoes. We grafted 2 tomato scions (Panzer and Big Dena) onto 3 different rootstocks (Arnold, Colossus and Maxifort). We also grew out ungrafted control plots for comparison. Tomatoes were grafted using the 'tube-graft' method. Detailed information on our materials and methods can be found in the full report below.
Grafting Tomatoes for Soil-based Production in Greenhouses & High Tunnels, 2012 (pdf; 966KB)


Upcoming Events
Chipping Potato Twilight Meeting

August 25, 2022
Dansville, NY
View the chipping potato variety trial and hear updates from Walter De Jong of Cornell! Mike Mager of Arctic Refrigeration will provide updates in potato storage. Brian Nault, Cornell, and Margie Lund, CCE, will talk about insecticidal rotations for Colorado potato beetle and other potato insect updates. 1.0 DEC (categories 1a, 10, 23) recertification credits are available.
Announcements