Responding to Hailstorms
Crystal Stewart, Extension Vegetable Specialist
Eastern New York Commercial Horticulture
June 26, 2013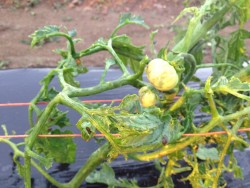 Preparing for hail:
There are some normal maintenance activities that will also benefit your plants in the event of a hailstorm. The use of rowcovers may help to diffuse the impact of hailstones and reduce injury to plants, especially when using rowcover and hoops. When deciding how long to leave those covers on, or whether to put them on your later plantings, this is a factor to consider. However, we have also seen rowcovers completely removed by the high winds that can precede hail, so this is certainly not a fail-safe.
The second precaution which will help in the event of hail is the application of a preventative fungicide such as copper or chlorothalonil. Although these products are not rain-fast, we have found that they still help reduce incidence of fungal and bacterial infections from hailstorms.
After hail: The damage left by hail varies tremendously based on the size and shape of the hailstone, the wind velocity of the storm, and the duration of the hail event. Deciding how to respond is really case-by-case. Two farms right next to each other can experience very different levels of damage. However, there are some rules of thumb that generally hold true.
1) Cucurbits are going to look really bad but are likely to recover. Those huge leaves tend to tatter very dramatically during hail, and can look absolutely awful. However, the leaves can also help to protect the growing points, which largely determine whether a plant will recover or not. Generally cucurbits that are old enough to have an established root system and have intact growing points will be able to generate new leaves very quickly and will begin producing fruit within a couple of weeks. To facilitate this process, give some extra nitrogen through the drip system. Pick and remove summer squash fruit that were damaged by hail if you can.
2) All plants will benefit from a protective fungicide application. After hail, plants have hundreds of small (or large) wounds which leave them extremely vulnerable to diseases. As soon as you can get on the field, apply a protectant such as copper or chlorothalonil (copper will protect from bacterial and fungal diseases so is the better option), even if you applied one before the storm. This will help prevent infection while the plant heals up those wounds.
3) Incidence of bacterial rot in onions is going to increase. We tend to see many more issues with onion storage following hail. Copper may help somewhat, but results have been mixed to poor.
Deciding what to do with tomatoes can be tricky. According to Dr. Reiners, determinate varieties suffering from moderate to severe damage (think of snapped branches and stripped leaves-Image 1) are most likely to be lost causes because by the time they recover they will practically be at the end of their lives. It is best to pull plants at this threshold out. Indeterminate tomatoes have a better chance of recovering from hail. All fruit which was hit will be relegated to seconds at the very best. Damage can vary greatly by variety because of the differences in canopy cover, so assess each separately. Last year we saw Primo Reds that were a complete loss next to Amish Paste tomatoes which were about 80% ok.
On plants with heavy foliage such as corn and sweet potatoes, a foliar feeding including nitrogen and some micronutrients may be beneficial. Remember that you have to have intact foliage to spray for this to be effective.
Once you have done everything you can to clean up and protect your plants, it is often best from a mental health standpoint to walk away for a few days up to a week. There is a small period of time where this is nothing more to do but let the plants recover. Nice time for a mini vacation. Really.

As always, if you would like help deciding what to do after hail or any other weather event, please give us a call.



Upcoming Events
2019 Chautauqua-Cattaraugus Produce Meeting

January 28, 2019
M 9:30 am - 3:45 pm
Jamestown, NY
This annual winter educational event for the Chautauqua Produce Auction will educate produce growers on pest management, variety selection, and marketing issues in fresh market crops grown for auction. Specific topics include season extension techniques and high tunnels, growing good onions and preventing early die-back, Strawberries 101, managing worms and Alternaria in Cole Crops, lessons learned at the Buffalo Valley Produce Auction, strategic crop management for increased profitability, Spotted Lantern Fly updates, and updates on FSMA, GAPS, and On-Farm Readiness Reviews.
This is a multi-discipline produce meeting featuring expert speakers in vegetable and fruit production and a Q&A panel of experienced, successful growers.
2019 Allegany-Cattaraugus Produce Growers Meeting
January 29, 2019
T 9:30am - 3:30pm
Freedom, NY
A fresh market vegetable meeting for beginner to intermediate growers. The meeting will emphasize grower perspectives and present both organic and conventional management information. Topics include soil health, onions, GAPs, good crop establishment, flower production, and organic tomato production. Lunch included for those pre-registering by noon on January 24th.
Produce Safety Alliance Grower Training Course
February 13, 2019
W Full day program - specific times TBD
Albion, NY
Fruit and vegetable growers and others interested in learning about produce safety, the Food Safety Modernization Act (FSMA) Produce Safety Rule, Good Agricultural Practices (GAPs), and co-management of natural resources and food safety. The PSA Grower Training Course is one way to satisfy the FSMA Produce Safety Rule requirement outlined in § 112.22(c) that requires 'At least one supervisor or responsible party for your farm must have successfully completed food safety training at least equivalent to that received under standardized curriculum recognized as adequate by the Food and Drug Administration.'
Announcements
We're Hiring: VEGETABLE CROPS SPECIALIST
The CCE Cornell Vegetable Program seeks a highly qualified candidate to lead research and educational programming in commercial vegetable production. A focus will be in potato and dry bean production. Additional emphasis will be placed on production and harvest handling practices that impact post-harvest vegetable quality. The Extension Educator will work as part of our regional agriculture team that serves commercial vegetable growers throughout a 14-county region of western and central NY. This position is full-time and will be located in western NY.
Applicants are required to hold a Master's degree, and should have a solid background in vegetable crop production. Experience in potato production and post-harvest handling and storage through formal education and work experience are desired. Applications are due by January 20, 2019.
For more information, visit
http://tiny.cc/Vegetable_WDR_00017327
Wanted: VEG FIELD RESEARCH & EXTENSION ASSISTANT
The CCE Cornell Vegetable Program (CVP) seeks a qualified candidate to provide technical and program support to the CVP Onion and Cole Crops Specialist in carrying out all aspects of research programming including research project design, set-up, data collection, harvest, data entry, analysis and summary, report writing, program evaluation and presentation preparation. Scout for pests weekly on grower farms, summarize scouting data and collect grower pesticide records, prepare annual scouting reports. Maintain accurate records and photo files.
This position is full-time and will be located in Albion, NY (Orleans County) but travel to other CVP counties will be expected during the growing season. Overtime is normal during peak periods (June-August).
Applicants are required to hold an Associate's degree in Agricultural Science (with course work indicating an aptitude for sciences) plus 1+ year of professional experience in agriculture or vegetable production. Applications are due by January 20, 2019.
For more information, visit
http://tiny.cc/Veg_Field_WDR_00017434
2018 Cornell Vegetable Program Year in Review
2018 is behind us but we hope that our team's efforts to enhance New York vegetable production continues well beyond! This year, our Specialists gave presentations at 119 events, sharing our knowledge with 3,535 people.
We continue to conduct on-farm research to help answer the questions of our growers. The Cornell Vegetable Program managed 50 research grants and projects in 2018. We extend our gratitude to the 65 farms and organizations that offered us land, labor, and supplies to support our trials! We also want to thank those farmers that gave generous financial contributions to support our work as well.
We cannot forget to thank the 13 Cooperative Extension Associations that partnered with us this year too. We're excited to be adding Steuben County to our list of participating counties in 2019!
Our
2018 Year in Review brochure
highlights our research and educational projects.