Spinich Leafminer- Identification and Management
June 26, 2013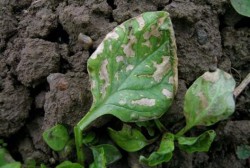 The spinach leafminer (Pegomya hyoscyami) is a common pest that causes unsightly leaf blisters and necrosis of spinach, beets, chards and host weeds like lambsquaters, nightshade, chickweed and plantain. Marketability of the leaf crops is significantly impacted. This is the case for beet greens and bunched beets.
The adult fly appears in early to mid- May after overwintering in the soil as pupae. It is a about 5 mm long and are gray in color. The adults can be seen flying near the ground between the plants. The females deposit eggs singly or in rows of two to five side by side on the underside of the leaves. In as little as three days but more commonly in four to six days the tiny legless, white to yellowish maggots hatch from the eggs and work their way into the leaf tissue. The maggots feed between the upper and lower leaf surfaces of the host plants mining out the tissue in between. It is not unusual for several larvae to be in the same leaf. As the maggot grows and continues to feed, the mines, which are at first thread-like, become blotch-like and are easily seen on the infected leaves. The larvae are full-grown in 7 to 16 days when they drop to the ground and burrow a few inches into the soil to pupate. Two to four weeks later the adult flies emerge and will soon lay eggs for another generation. In New York you can expect three to four generations each year.
Management- a preventive spray schedule beginning when the spinach is two true leaves and repeated every 7 days. Remove wild hosts like lambsquarter, nightshades, chickweed, and plantain. Deep plowing in the spring can reduce the overwintering population by burying existing pupae. In smaller stands, infected leaves can be picked before the maggots drop to the ground. Removing and destroying these infected leaves can lessen the leafminer pressure
-Ray Range


Upcoming Events
Western S. Tier Produce Meeting

January 28, 2020
Jamestown, NY
A jam-packed schedule of educational topics for regional growers, this meeting features dynamic sessions and peer-to-peer learning opportunities. Topics will be relevant for vegetable, berry, field crops, and greenhouse/flower, and organic growers. Focus areas in 2020 include disease management and enhancing local markets. Pesticide credits available in many NY and PA categories, CEUs requested.
2020 Upper Genesee Valley Produce Growers Meeting
February 14, 2020
Freedom, NY
A bit of something for everyone! This meeting will feature experts from Cornell Cooperative Extension discussing food safety in auction lots and quality control, how to successfully lengthen the growing season, making the most of a small grain rotational crop, and common disease and pest info. Summer squash, cabbage and pepper production tips will be presented by Mark Zittel, an experienced produce and greenhouse grower for 20+ years. Participants will have the opportunity to join group discussion in breakout sessions of their choosing. And don't forget to stop by the Demo Table to see weeds and soil health exhibits. FREE but registration is requested by February 12.
Precision Agriculture Series - Erie
February 19, 2020
March 4, 2020
March 25, 2020
: Erie County
East Aurora, NY
Join Cornell Cooperative Extension to learn what precision agriculture entails, the economics of using precision ag, and the preferred methodology and benefits. This free, 3-day event series is being organized by CCE Erie County with assistance from Dr. Ali Nafchi, Precision Ag Specialist of the CCE Cornell Vegetable Program and CCE NWNY Dairy, Livestock, and Field Crops team. Topics for each day will be determined by the audience interests and questions.
Announcements