How to Count Nodes in Succulent Green Peas
Julie Kikkert, Team Leader, Extension Vegetable Specialist
Cornell Vegetable Program
May 18, 2010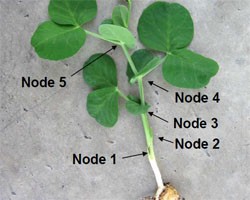 The application of post-emergence herbicides to succulent peas must be made at certain growth stages. Herbicide labels often refer to peas at a certain number of nodes (point where a leaf meets the stem). In peas, the first two nodes have only scale leaves and are often below the ground. These should be counted in green peas. (Note this is different for dry field peas.) Furthermore, afila (leafless) peas do not have true leaves, rather they have stipules and tendrils. Learn how to properly count nodes in succulent green peas below.
How to count nodes in succulent green peas (pdf; 183KB)


Upcoming Events
Women in Agriculture Discussion Group: Apples and Vegetables
September 30, 2019
Monday, 6:00 - 7:30 PM
Lockport, NY
Each monthly Women in Ag discussion group meeting will feature an established, innovative Farm-her leading the group on a tour of her operation and sharing her expertise on business management and production. Several guest speakers, as well as Cornell Vegetable Program staff, will be brought in to act as resource people for developing solutions to common production challenges.

The September 30 meeting will cover season extension, managing CSAs and tarping led by Liz Tee, CCE Lake Ontario Fruit Program, and Elizabeth Buck, CCE Cornell Vegetable Program. The meeting will be hosted by Bree Bacon (McCollum Orchards & Gardens). Bree will share her experience in social media marketing and passive farm income.

Announcements