Grafting Tomatoes Video: The Motivation and Benefits of Grafting
Judson Reid, Extension Vegetable Specialist
Cornell Vegetable Program
October 16, 2013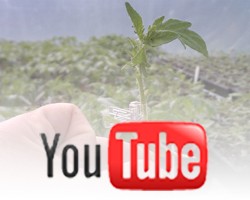 As soil based production of tomatoes continues in tunnels and greenhouses, risk of root-zone diseases, insects and nutrient imbalances increase. Grafting, the combination of two separate cultivars into one plant, is one management approach to these challenges.
Learn more about the motivations and benefits of grafting tomatoes in this video of Judson Reid, Extension Vegetable Specialist for the Cornell Vegetable Program.
The Cornell Vegetable Program has developed additional resources on
How to Graft Tomatoes
for Soil-Based Production in Greenhouses and High Tunnels.


Upcoming Events
Sanitation Open House for Fruit and Vegetable Growers
November 29, 2022
Geneva, NY
Come experience several hands-on stations to help jump start and enhance your sanitation program. Try out new cleaning tools, learn how to select the right sanitizer, and assess the cleanability of different equipment.
Farm Food Safety Meeting
December 5, 2022
Newark, NY
This meeting will focus on updates and key considerations in farm food safety. Topics to be covered include agricultural water quality assessments, traceability procedures, tips for improving flow and efficiency in wash/pack facilities, cleaning and sanitation updates, plus plenty of discussion to answer your questions.
GAPs Training -- Understanding Food Safety on the Farm
December 9, 2022
Penn Yan, NY
Join the Cornell Vegetable Program and Cornell Cooperative Extension for a workshop that will provide you with the why's behind food safety recommendations along with practical, farm-based ideas to improve food safety on your farm.
Announcements