Grafting Tomatoes Video: The Motivation and Benefits of Grafting
Judson Reid, Extension Vegetable Specialist
Cornell Vegetable Program
October 16, 2013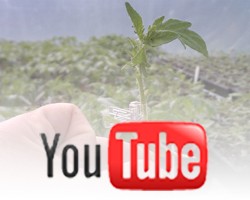 As soil based production of tomatoes continues in tunnels and greenhouses, risk of root-zone diseases, insects and nutrient imbalances increase. Grafting, the combination of two separate cultivars into one plant, is one management approach to these challenges.
Learn more about the motivations and benefits of grafting tomatoes in this video of Judson Reid, Extension Vegetable Specialist for the Cornell Vegetable Program.
The Cornell Vegetable Program has developed additional resources on
How to Graft Tomatoes
for Soil-Based Production in Greenhouses and High Tunnels.


Upcoming Events
No upcoming events at this time.
Announcements