2017 Cucurbit Downy Mildew Management Guidelines
Last Modified: July 5, 2017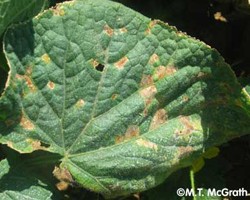 From Margaret McGrath, Plant-Microbe Biology Section, SIPS, Cornell University
Producing a high-quality cucurbit crop necessitates effectively managing downy mildew. This foliar disease is common in the northeast because the pathogen produces a large quantity of asexual spores that are easily dispersed long distances by wind, which enables it to spread widely. There has been no evidence that the pathogen is surviving between growing seasons where winter temperatures kill cucurbit crops (outdoors above the 30th latitude); however, recently both mating types have been found, albeit typically on different cucurbit crop types, thus there is the potential for the pathogen to produce oospores (sexual spores) that could enable the pathogen to survive in northern areas of the USA. The downy mildew forecasting program has documented based on downy mildew occurrence movement of the pathogen throughout the eastern USA each year via its wind-dispersed asexual spores. The pathogen does not affect fruit directly; however, affected leaves die prematurely which results in fewer fruit and/or fruit of low quality (poor flavor, sunscald, poor storability).
The most important component of an effective management program for downy mildew is an effective, properly-timed fungicide program. And the key to that is applying mobile fungicides targeted to the pathogen starting when there is a risk of the pathogen being present. Mobile (or translaminar) fungicides are needed for control on the underside of leaves. Each year there often are changes to the fungicides recommended as the pathogen develops resistance or new products are registered. Because these fungicides have targeted activity, additional fungicides must be added to the program when there is a need to manage other diseases such as powdery mildew. Most targeted fungicides effective for downy mildew are also effective for Phytophthora blight.
The links below contain more information on resistant varieties, developing a diversified fungicide program and timing your sprays, and recommended targeted and protectant fungicides.

Additionally, you will find information for organic management of cucurbit diseases
through biopesticides and fungicides for vegetable crops and herbs.
Effectively Managing Cucurbit Downy Mildew in NY in 2017 (pdf; 175KB)
Biopesticides for Managing Diseases of Cucurbits Organically (pdf; 214KB)
Efficacy of Organic Fungicides for Vegetable Diseases and Herbs (pdf; 158KB)


Upcoming Events
Precision Agriculture Workshop VIRTUAL SERIES
January 21, 2021
February 4, 2021
February 18, 2021

Farmers and anyone interested in learning more about precision agriculture and how it can be implemented on the farm is invited to attend a 3-part virtual series. The series will feature Dr. Ali Nafchi, Precision Agriculture Specialist with CCE's NWNY Dairy, Livestock and Field Crops Team and the Cornell Vegetable Program. Topics will begin with an introduction to precision agriculture and why any producer of an agricultural product should be interested in precision agriculture.
Remote GAPs Training and Farm Food Safety Plan Writing Session
January 27 - January 28, 2021
Join Cornell Cooperative Extension on January 27th for a remote GAPs training. Instructors will walk growers through how to conduct a risk assessment on their farm utilizing the seven areas of farm food safety. Participants will gain hands-on experience in creating a traceability system for their farm, as well as learn about packing house design with food safety principles guiding placement of equipment and suggested materials. Students will also learn about how to train their employees related to food safety and understand what they will need to implement on their farm in order to pass a third-party food safety audit, such as GAPs.
On January 28th growers can join us for a day focused on writing their farm food safety plan. Trainers will be joined by NYS Department of Agriculture & Markets Farm Products inspectors to give guidance and input for farms in creating their farm food safety plans to meet the needs for a potential audit. At the conclusion of day two growers will have all components of their farm food safety plans outlined with the most critical pieces.
Announcements