2017 Cucurbit Downy Mildew Management Guidelines
Last Modified: July 5, 2017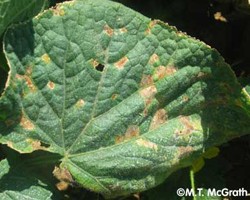 From Margaret McGrath, Plant-Microbe Biology Section, SIPS, Cornell University
Producing a high-quality cucurbit crop necessitates effectively managing downy mildew. This foliar disease is common in the northeast because the pathogen produces a large quantity of asexual spores that are easily dispersed long distances by wind, which enables it to spread widely. There has been no evidence that the pathogen is surviving between growing seasons where winter temperatures kill cucurbit crops (outdoors above the 30th latitude); however, recently both mating types have been found, albeit typically on different cucurbit crop types, thus there is the potential for the pathogen to produce oospores (sexual spores) that could enable the pathogen to survive in northern areas of the USA. The downy mildew forecasting program has documented based on downy mildew occurrence movement of the pathogen throughout the eastern USA each year via its wind-dispersed asexual spores. The pathogen does not affect fruit directly; however, affected leaves die prematurely which results in fewer fruit and/or fruit of low quality (poor flavor, sunscald, poor storability).
The most important component of an effective management program for downy mildew is an effective, properly-timed fungicide program. And the key to that is applying mobile fungicides targeted to the pathogen starting when there is a risk of the pathogen being present. Mobile (or translaminar) fungicides are needed for control on the underside of leaves. Each year there often are changes to the fungicides recommended as the pathogen develops resistance or new products are registered. Because these fungicides have targeted activity, additional fungicides must be added to the program when there is a need to manage other diseases such as powdery mildew. Most targeted fungicides effective for downy mildew are also effective for Phytophthora blight.
The links below contain more information on resistant varieties, developing a diversified fungicide program and timing your sprays, and recommended targeted and protectant fungicides.

Additionally, you will find information for organic management of cucurbit diseases
through biopesticides and fungicides for vegetable crops and herbs.
Effectively Managing Cucurbit Downy Mildew in NY in 2017 (pdf; 175KB)
Biopesticides for Managing Diseases of Cucurbits Organically (pdf; 214KB)
Efficacy of Organic Fungicides for Vegetable Diseases and Herbs (pdf; 158KB)


Upcoming Events
Sanitation Open House for Fruit and Vegetable Growers
November 29, 2022
Geneva, NY
Come experience several hands-on stations to help jump start and enhance your sanitation program. Try out new cleaning tools, learn how to select the right sanitizer, and assess the cleanability of different equipment.
Farm Food Safety Meeting
December 5, 2022
Newark, NY
This meeting will focus on updates and key considerations in farm food safety. Topics to be covered include agricultural water quality assessments, traceability procedures, tips for improving flow and efficiency in wash/pack facilities, cleaning and sanitation updates, plus plenty of discussion to answer your questions.
GAPs Training -- Understanding Food Safety on the Farm
December 9, 2022
Penn Yan, NY
Join the Cornell Vegetable Program and Cornell Cooperative Extension for a workshop that will provide you with the why's behind food safety recommendations along with practical, farm-based ideas to improve food safety on your farm.
Announcements