North American Certified Seed Potato Health Certificate (NACSPHC)
Carol MacNeil, Extension Vegetable Specialist
Cornell Vegetable Program
Last Modified: August 31, 2016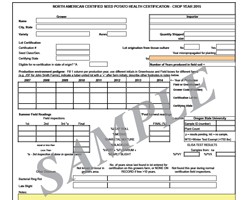 The emergence of Potato Virus Yntn, which causes tuber necrotic ringspot disease (TNRD) in susceptible varieties, and the emergence of blackleg Dickeya, both serious seed-borne diseases, are very important reasons why you need to get a copy of the

North American Certified Seed Potato Health Certificate (NACSPHC) for each lot of potato seed you buy.

About 20% of the PVY in the North American seed crop is currently PVYntn. 25% incidence of TNRD occurred in a local grower's crop from one field, resulting in very high losses. It is reported as "Mosaic" on the certificate, which includes all the PVY strains. Only buy seed lots with a very low percent of mosaic. Aphids can spread the disease from a non-necrotic ringspot susceptible "carrier" to a susceptible variety on your farm.
From Meg McGrath, 8/25, Long Island Fruit & Vegetable Update
- Brown leaf spots and necrotic leaf veins in the early, European variety Nadine this season were confirmed to be caused by PVYNTN.
See photos of these leaves and of a plant with more typical mild symptoms, plus information about PVY
. Also see images of the brown necrotic ringspots on tubers of a susceptible variety. In other varieties PVYntn only reduces yield, causing plants to produce fewer and smaller tubers.
Read about varietal susceptibility to TNRD
.
Common bacterial blackleg and the new, much more virulent bacterial blackleg Dickeya (BBD) aren't distinguished on the NACSPH Certificate, but are reported as "Blackleg" at this time. About 30% of potato stems in one local field wilted and died from BBD in 2015. Four fields were confirmed positive in the CVP region in 2016, and more fields were suspected. Plant pathologists are recommending that growers adopt 0% tolerance for blackleg in their seed. If any BBD was seen in a field this year check carefully for rotting tubers and the "shells" of tubers that already rotted, before harvest. Also note if yield was less than expected. 2016 incidence of BBD in Eastern and some Midwestern fields were traced to 11 ME seed producers and 2 New Brunswick, Canada, producers, of Reba, Superior, Vivaldi, Norwis, Snowden, Yukon Gold, Beacon Chipper, Kennebec and Atlantic.
North American Certified Seed Potato Health Certificate (SAMPLE) (pdf; 469KB)


Upcoming Events
2019 Chautauqua-Cattaraugus Produce Meeting

January 28, 2019
M 9:30 am - 3:45 pm
Jamestown, NY
This annual winter educational event for the Chautauqua Produce Auction will educate produce growers on pest management, variety selection, and marketing issues in fresh market crops grown for auction. Specific topics include season extension techniques and high tunnels, growing good onions and preventing early die-back, Strawberries 101, managing worms and Alternaria in Cole Crops, lessons learned at the Buffalo Valley Produce Auction, strategic crop management for increased profitability, Spotted Lantern Fly updates, and updates on FSMA, GAPS, and On-Farm Readiness Reviews.
This is a multi-discipline produce meeting featuring expert speakers in vegetable and fruit production and a Q&A panel of experienced, successful growers.
2019 Allegany-Cattaraugus Produce Growers Meeting
January 29, 2019
T 9:30am - 3:30pm
Freedom, NY
A fresh market vegetable meeting for beginner to intermediate growers. The meeting will emphasize grower perspectives and present both organic and conventional management information. Topics include soil health, onions, GAPs, good crop establishment, flower production, and organic tomato production. Lunch included for those pre-registering by noon on January 24th.
Produce Safety Alliance Grower Training Course
February 13, 2019
W Full day program - specific times TBD
Albion, NY
Fruit and vegetable growers and others interested in learning about produce safety, the Food Safety Modernization Act (FSMA) Produce Safety Rule, Good Agricultural Practices (GAPs), and co-management of natural resources and food safety. The PSA Grower Training Course is one way to satisfy the FSMA Produce Safety Rule requirement outlined in § 112.22(c) that requires 'At least one supervisor or responsible party for your farm must have successfully completed food safety training at least equivalent to that received under standardized curriculum recognized as adequate by the Food and Drug Administration.'
Announcements
We're Hiring: VEGETABLE CROPS SPECIALIST
The CCE Cornell Vegetable Program seeks a highly qualified candidate to lead research and educational programming in commercial vegetable production. A focus will be in potato and dry bean production. Additional emphasis will be placed on production and harvest handling practices that impact post-harvest vegetable quality. The Extension Educator will work as part of our regional agriculture team that serves commercial vegetable growers throughout a 14-county region of western and central NY. This position is full-time and will be located in western NY.
Applicants are required to hold a Master's degree, and should have a solid background in vegetable crop production. Experience in potato production and post-harvest handling and storage through formal education and work experience are desired. Applications are due by January 20, 2019.
For more information, visit
http://tiny.cc/Vegetable_WDR_00017327
Wanted: VEG FIELD RESEARCH & EXTENSION ASSISTANT
The CCE Cornell Vegetable Program (CVP) seeks a qualified candidate to provide technical and program support to the CVP Onion and Cole Crops Specialist in carrying out all aspects of research programming including research project design, set-up, data collection, harvest, data entry, analysis and summary, report writing, program evaluation and presentation preparation. Scout for pests weekly on grower farms, summarize scouting data and collect grower pesticide records, prepare annual scouting reports. Maintain accurate records and photo files.
This position is full-time and will be located in Albion, NY (Orleans County) but travel to other CVP counties will be expected during the growing season. Overtime is normal during peak periods (June-August).
Applicants are required to hold an Associate's degree in Agricultural Science (with course work indicating an aptitude for sciences) plus 1+ year of professional experience in agriculture or vegetable production. Applications are due by January 20, 2019.
For more information, visit
http://tiny.cc/Veg_Field_WDR_00017434
2018 Cornell Vegetable Program Year in Review
2018 is behind us but we hope that our team's efforts to enhance New York vegetable production continues well beyond! This year, our Specialists gave presentations at 119 events, sharing our knowledge with 3,535 people.
We continue to conduct on-farm research to help answer the questions of our growers. The Cornell Vegetable Program managed 50 research grants and projects in 2018. We extend our gratitude to the 65 farms and organizations that offered us land, labor, and supplies to support our trials! We also want to thank those farmers that gave generous financial contributions to support our work as well.
We cannot forget to thank the 13 Cooperative Extension Associations that partnered with us this year too. We're excited to be adding Steuben County to our list of participating counties in 2019!
Our
2018 Year in Review brochure
highlights our research and educational projects.