Salvaging Your Greenhouse After a Heavy Snow Storm
November 25, 2014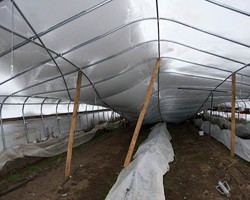 From John Bartok, Agricultural Engineer, Ashford, CT, 11/24/2014:
A quick checklist covering potential hazards and steps to take to salvage your greenhouse after a heavy snow storm.
Be aware of potential hazards:
• Sliding snow or ice
• Falling glassAgri:
• Broken frame members
• Severed electrical wires
• Leaking fuel oil or gas
Shut off utilities:
• Disconnect power supply
• Shut of gas supply
• Turn of main water supply
Minimum structural damage:
• Take photos
• Prop up greenhouse frame to prevent further collapse
• Add additional bracing (diagonal at corners)
• Check and tighten frame connections
• Repair glazing
• Close doors and vents
• Open drain pipes
• Provide temporary heat to keep plants from freezing
• Check and repair heating/electrical/water systems
Major structural damage:
• Take photos
• Support frame members for safe entry
• Cut poly if necessary to reduce load on structure
• Clear aisles
• Remove plants to temporary structures or alternate location
• Drain water system
• Cover heating/cooling and materials handling equipment with tarps
Snow removal:

It can be very expensive to remove the snow. You also have to have space for it. If the snow is light, there is not much danger of further collapse. If it is heavy, some growers found that as it settled, melted and refroze, it formed a cocoon next to the greenhouse and didn't add a lot of pressure. Removing it may cause more damage. If you need the light for the plants, then the snow will have to be removed.
Contact the insurance company.
Rent equipment to remove snow if necessary. Also rent to replace damaged heating/cooling equipment.
CHECKLIST: Salvaging Your Greenhouse After a Heavy Snow Storm (pdf; 73KB)


Upcoming Events
Women in Agriculture Discussion Group: Apples and Vegetables
September 30, 2019
Monday, 6:00 - 7:30 PM
Lockport, NY
Each monthly Women in Ag discussion group meeting will feature an established, innovative Farm-her leading the group on a tour of her operation and sharing her expertise on business management and production. Several guest speakers, as well as Cornell Vegetable Program staff, will be brought in to act as resource people for developing solutions to common production challenges.

The September 30 meeting will cover season extension, managing CSAs and tarping led by Liz Tee, CCE Lake Ontario Fruit Program, and Elizabeth Buck, CCE Cornell Vegetable Program. The meeting will be hosted by Bree Bacon (McCollum Orchards & Gardens). Bree will share her experience in social media marketing and passive farm income.

Announcements