Salvaging Your Greenhouse After a Heavy Snow Storm
November 25, 2014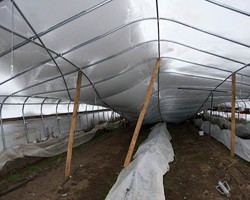 From John Bartok, Agricultural Engineer, Ashford, CT, 11/24/2014:
A quick checklist covering potential hazards and steps to take to salvage your greenhouse after a heavy snow storm.
Be aware of potential hazards:
• Sliding snow or ice
• Falling glassAgri:
• Broken frame members
• Severed electrical wires
• Leaking fuel oil or gas
Shut off utilities:
• Disconnect power supply
• Shut of gas supply
• Turn of main water supply
Minimum structural damage:
• Take photos
• Prop up greenhouse frame to prevent further collapse
• Add additional bracing (diagonal at corners)
• Check and tighten frame connections
• Repair glazing
• Close doors and vents
• Open drain pipes
• Provide temporary heat to keep plants from freezing
• Check and repair heating/electrical/water systems
Major structural damage:
• Take photos
• Support frame members for safe entry
• Cut poly if necessary to reduce load on structure
• Clear aisles
• Remove plants to temporary structures or alternate location
• Drain water system
• Cover heating/cooling and materials handling equipment with tarps
Snow removal:

It can be very expensive to remove the snow. You also have to have space for it. If the snow is light, there is not much danger of further collapse. If it is heavy, some growers found that as it settled, melted and refroze, it formed a cocoon next to the greenhouse and didn't add a lot of pressure. Removing it may cause more damage. If you need the light for the plants, then the snow will have to be removed.
Contact the insurance company.
Rent equipment to remove snow if necessary. Also rent to replace damaged heating/cooling equipment.
CHECKLIST: Salvaging Your Greenhouse After a Heavy Snow Storm (pdf; 73KB)


Upcoming Events
SCRUB Twilight Workshop Series
September 1, 2021 : Bin Blitz
Experienced growers and UVM's Ag Engineering present new strategies and cleaning tools to increase the efficiency and efficacy of bin cleaning, sanitation and management practices. Lead growers show and tell their bin systems, with lessons learned. Participants leave with a plan to improve/implement new practices.
September 8, 2021 : Low Cost and High Value
Evaluate low-cost (either money or time) improvements that make a big difference. Experience growers show and tell the thrifty improvements they made and summarize lessons learned, including trade-offs of spending money (or not) to lower risks and increase efficiency.
September 15, 2021 : Wash/Pack Floors
Learn to improve or repair a concrete floor so that it is smooth and easy to clean. This workshop highlights concrete repair, cleaning and sanitation techniques, water management, products and resources, as well as show and tell from experienced growers, and Chris Callahan from UVM's Extension Ag Engineering.
September 22, 2021 : Wash Water Management
Experienced growers and facilitators dig into the fundamentals of managing produce wash water, including show and tell with lessons learned about wash water management, use and monitoring of sanitizers. All participants leave with a plan to improve/implement new practices.
September 29, 2021 : Tools for Employee Management and Empowerment
Develop management strategies/systems to retain and empower high-value workers, while improving crew morale and culture. Learn from experienced managers of loyal and reliable crews, the pros and cons of their current management systems, and how they came to be. Participants leave with resources and a plan to improve/implement one or more new practices or strategies.
October 6, 2021 : Bubblers/Aerators for Greens Washing
For growers wanting to install or improve a greens bubbler/aerator. Get feedback from growers who built/improved their own systems. Examine designs and DYI resources, as well as perceived quality and efficiency gains from bubblers as compared to other washing methods. This workshop features a panel of New York growers!
Announcements