Tomatoes for the High Tunnel: Determinate versus Indeterminate
Cordelia Machanoff, Program Aide
Cornell Vegetable Program
December 18, 2014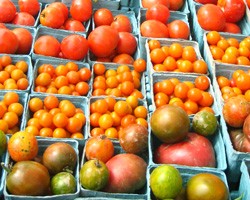 One of the first choices when beginning high tunnel tomato production is variety selection. This comparison guide will help with the decision.
Tomatoes for the High Tunnel: Determinate versus Indeterminate (pdf; 1403KB)


Upcoming Events
2019 Processing Vegetable Crops Advisory Meeting

December 17, 2019
9:30am - 12:10pm, 1pm - 2pm, and 2pm - 3:30pm
Batavia, NY
All are invited to attend and discuss the 2019 season for each crop, meet the new Cornell Weed Scientist and discuss weed management concerns, and receive updates on research conducted during 2019. Separate DEC and CCA credits will be available for each of the 3 crop meetings. The meeting is free of charge and there is no registration required.
Announcements