Wash Your Greens: A Low-Cost but Effective Washer/Spinner Design
Robert Hadad, Extension Vegetable Specialist
Cornell Vegetable Program
March 26, 2015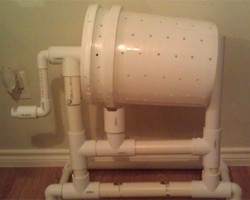 Farm Food Safety practices not only reduces the risk of microbial contamination that can lead to food-borne diseases but can also improve the post-harvest quality of washed vegetables. There are many issues dealing with farm food safety and a lot of research going on. One area centers on low-cost but effective equipment options. Dr. Jay Neal from the University of Houston has designed a greens washer/spinner built from PVC and using a 5 gallon bucket with lid. One of our farmers has built a model and modified the instructions to make building and usage easier.
Spinner Construction Manual from Univ of Houston (pdf; 1350KB)
Modified Greens Spinner Construction Manual (pdf; 458KB)


Upcoming Events
No upcoming events at this time.
Announcements