Wash Your Greens: A Low-Cost but Effective Washer/Spinner Design
Robert Hadad, Extension Vegetable Specialist
Cornell Vegetable Program
March 26, 2015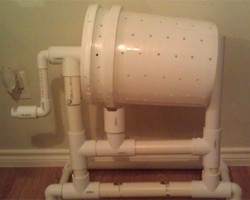 Farm Food Safety practices not only reduces the risk of microbial contamination that can lead to food-borne diseases but can also improve the post-harvest quality of washed vegetables. There are many issues dealing with farm food safety and a lot of research going on. One area centers on low-cost but effective equipment options. Dr. Jay Neal from the University of Houston has designed a greens washer/spinner built from PVC and using a 5 gallon bucket with lid. One of our farmers has built a model and modified the instructions to make building and usage easier.
Spinner Construction Manual from Univ of Houston (pdf; 1350KB)
Modified Greens Spinner Construction Manual (pdf; 458KB)


Upcoming Events
Food Safety and Wash/Pack Facilities: Virtual Training
November 16, 2020
A well-thought out Wash/Pack Facility can go a long way in improving produce quality, worker health and safety, and overall efficiency. But how can intentional design impact food safety? This virtual training will help farmers and workers understand the food safety risks present in wash/pack facilities and outline ways in which risks can be minimized.
Announcements