Wash Your Greens: A Low-Cost but Effective Washer/Spinner Design
Robert Hadad, Extension Vegetable Specialist
Cornell Vegetable Program
March 26, 2015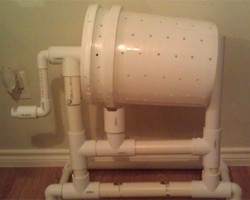 Farm Food Safety practices not only reduces the risk of microbial contamination that can lead to food-borne diseases but can also improve the post-harvest quality of washed vegetables. There are many issues dealing with farm food safety and a lot of research going on. One area centers on low-cost but effective equipment options. Dr. Jay Neal from the University of Houston has designed a greens washer/spinner built from PVC and using a 5 gallon bucket with lid. One of our farmers has built a model and modified the instructions to make building and usage easier.
Spinner Construction Manual from Univ of Houston (pdf; 1350KB)
Modified Greens Spinner Construction Manual (pdf; 458KB)


Upcoming Events
Sanitation Open House for Fruit and Vegetable Growers
November 29, 2022
Geneva, NY
Come experience several hands-on stations to help jump start and enhance your sanitation program. Try out new cleaning tools, learn how to select the right sanitizer, and assess the cleanability of different equipment.
Farm Food Safety Meeting
December 5, 2022
Newark, NY
This meeting will focus on updates and key considerations in farm food safety. Topics to be covered include agricultural water quality assessments, traceability procedures, tips for improving flow and efficiency in wash/pack facilities, cleaning and sanitation updates, plus plenty of discussion to answer your questions.
GAPs Training -- Understanding Food Safety on the Farm
December 9, 2022
Penn Yan, NY
Join the Cornell Vegetable Program and Cornell Cooperative Extension for a workshop that will provide you with the why's behind food safety recommendations along with practical, farm-based ideas to improve food safety on your farm.
Announcements