2015 Carrot Herbicide Chart
Julie Kikkert, Team Leader, Extension Vegetable Specialist
Cornell Vegetable Program
April 1, 2015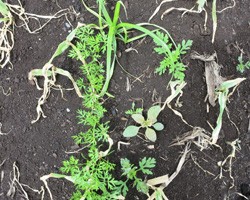 This chart was created in cooperation with Dr. Robin Bellinder, weed scientist at Cornell, lists the herbicides that are labeled for carrots and which weed species are controlled. While the chart is a handy reference, it is critical to read the product labels thoroughly.
Herbicide effectiveness depends on many things. If the weed species you are trying to control has a poor or fair rating with a particular product, you should try other options. To be most effective, herbicides must be applied at the correct state of crop development and weed size. Effectiveness may also vary with method of application, rate, use of an adjuvant, and soil and climatic factors.
Relative Effectiveness of Herbicides Available for Use in Carrots in NY in 2015 (pdf; 26KB)


Upcoming Events
2021 Oswego County Onion Growers Twilight Meeting

June 24, 2021
Hannibal, NY
It's going to be a Weed Control Extravaganza at this year's Oswego County Onion Growers Twilight Meeting! Bring weed samples for identification. 2.25 DEC recertification credits will be available (categories 1A, 10 and 23). CCA credits will also be available. This meeting is being organized by Oswego County Vegetable Growers and Improvement Association and CCE Cornell Vegetable Program.

Announcements