Guideline Tools: Weed Management in Cucurbits, 2015
Darcy Telenko, Extension Vegetable Specialist
Cornell Vegetable Program
June 9, 2015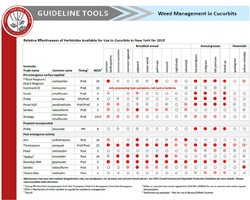 This reference sheet lists the herbicides that are labeled for cucurbits in New York and which species are controlled, as well as other important considerations and photos of weeds. While this is a handy references, it is critical to read the product labels thoroughly.
Herbicide effectiveness depends on many things. If the weed species you are trying to control has a poor or fair rating with a particular product, you should try other options. To be most effective, herbicides must be applied at the correct state of crop development and weed size. Effectiveness may also vary with method of application, rate, use of an adjuvant, size of weed, and soil and climate factors.
Guideline Tools: Weed Management in Cucurbits, 2015 (pdf; 980KB)


Upcoming Events
Sanitation Open House for Fruit and Vegetable Growers
November 29, 2022
Geneva, NY
Come experience several hands-on stations to help jump start and enhance your sanitation program. Try out new cleaning tools, learn how to select the right sanitizer, and assess the cleanability of different equipment.
Farm Food Safety Meeting
December 5, 2022
Newark, NY
This meeting will focus on updates and key considerations in farm food safety. Topics to be covered include agricultural water quality assessments, traceability procedures, tips for improving flow and efficiency in wash/pack facilities, cleaning and sanitation updates, plus plenty of discussion to answer your questions.
GAPs Training -- Understanding Food Safety on the Farm
December 9, 2022
Penn Yan, NY
Join the Cornell Vegetable Program and Cornell Cooperative Extension for a workshop that will provide you with the why's behind food safety recommendations along with practical, farm-based ideas to improve food safety on your farm.
Announcements