Crop Cooling and Storage
Robert Hadad, Extension Vegetable Specialist
Cornell Vegetable Program
Last Modified: September 29, 2016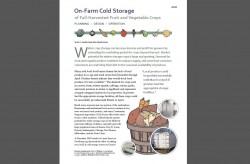 On-Farm Cold Storage of Fall-Harvested Fruit and Vegetable Crops is an in-depth look at the planning and designing cooling for late season and winter storage but it also is useful for general cooling as well. This was written by Scott Sanford, Distinguished Outreach Specialist, UW-Extension, and John Hendrickson, Outreach Program Manager, Center for Integrated Agricultural Systems, University of Wisconsin-Madison.

This publication is available for purchase from UW-Extension in print or digital download.


Upcoming Events
Niagara Region Summer Vegetable Meeting

August 3, 2021
Appleton, NY
1.5 DEC credits requested. Field meeting featuring weed and disease control. Chris Smart, Cornell's Plant Pathologist, will be discussing control of bacterial diseases in tomato, Alternaria in brassicas, and other current/hot topics in disease. Weed Scientist Lynn Sosnoskie will introduce new pigweed species that are appearing in our region and give updates on herbicide resistance and new mechanical weed control techniques. Smaller topics include soil health.

Chipping Potato Growers Twilight Meeting
August 5, 2021
Dansville, NY
Join us for a fun, potato-centered twilight meeting at Mahany Farms! Come hear about updates from this year's chipping potato variety trial, and learn more about disease forecasting and management. Network with fellow growers, event speakers, and Cornell Cooperative Extension staff following the talks.
Announcements