Video: Produce Washing Stations - How to Use a Germicidal Bleach
January 26, 2016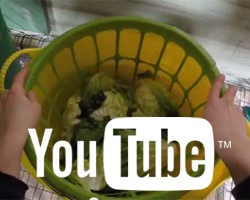 Good Agricultural Practices or GAPs are the steps taken in produce packing areas to reduce microbial contamination. One area where reducing micro contamination is critical is in the washing and cleaning of produce.
This video shows you a set of standard operating procedures for using a germicidal bleach in a produce washing station. Learn what supplies are required and how to calculate the amount of germicidal bleach needed to sanitize the water.
This video was developed by the Cornell Vegetable Program and Harvest New York with support from the USDA and the Northeast Center for Risk Management Education.

To learn more, see our additional resources:


Upcoming Events
2019 Processing Vegetable Crops Advisory Meeting

December 17, 2019
9:30am - 12:10pm, 1pm - 2pm, and 2pm - 3:30pm
Batavia, NY
All are invited to attend and discuss the 2019 season for each crop, meet the new Cornell Weed Scientist and discuss weed management concerns, and receive updates on research conducted during 2019. Separate DEC and CCA credits will be available for each of the 3 crop meetings. The meeting is free of charge and there is no registration required.
Announcements