Material List and Cost Calculator for Building a Wash Table and Aerator
Robert Hadad, Extension Vegetable Specialist
Cornell Vegetable Program
March 16, 2016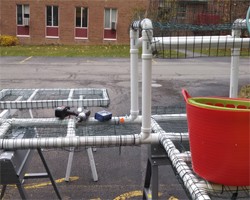 Our model wash table was built from parts purchased entirely from a decently stocked hardware store. The list contains all the components we used to build the main table, the side modular tables, and the "dirty table". Also listed are the prices we paid to give you an idea of a building price. The real goal for these tables is to demonstrate that it doesn't require high priced equipment to get started in setting up an easily cleanable wash line set-up. The idea is to have something usable whether it is indoors or outside under canopies. The key is having the tables and equipment that can be easily cleaned and sanitized while being low-cost, easy to build, and totally functional.

There is a second page of the spreadsheet that includes the materials list and cost for building an aerator. The concept of the aerator is to pump air in a tank of water that can agitate leafy greens or heads of lettuce, escarole, etc. to quickly remove soil and debris as well as keeping any added sanitizer in the water to reach in around the produce. The Jacuzzi motor was found at a spa parts website. I ordered a 1 hp model. Very quickly we realized that this was too powerful for any tank or basin less than 50 gallons or greater and needs high sides. A 7/8 hp motor or something smaller would work fine. The motor purchased had a 2" diameter exhaust that fit easily to a 2" PVC pipe. Do not glue the PVC pieces in the bottom of the tank together totally. The unit will suck in soil and debris when you turn off the motor after use and will need cleaning after each day's use. Having the PVC pipes in the bottom of the tank fit snuggly with the inside perimeter will help in keeping the unit from floating when the motor is turned on. More holes drilled into the PVC would help reduce floating. Using an easily cleanable weighted object to hold down the pipes can also work. To see the aerator in action, go to our video and the last couple of minutes of the video is on the aerator.
Wash Station Material List, Budget, and Notes (xlsx; 739KB)
Download this Excel file to calculate the cost to build a wash table.


Upcoming Events
SCRUB Twilight Workshop Series
September 1, 2021 : Bin Blitz
Experienced growers and UVM's Ag Engineering present new strategies and cleaning tools to increase the efficiency and efficacy of bin cleaning, sanitation and management practices. Lead growers show and tell their bin systems, with lessons learned. Participants leave with a plan to improve/implement new practices.
September 8, 2021 : Low Cost and High Value
Evaluate low-cost (either money or time) improvements that make a big difference. Experience growers show and tell the thrifty improvements they made and summarize lessons learned, including trade-offs of spending money (or not) to lower risks and increase efficiency.
September 15, 2021 : Wash/Pack Floors
Learn to improve or repair a concrete floor so that it is smooth and easy to clean. This workshop highlights concrete repair, cleaning and sanitation techniques, water management, products and resources, as well as show and tell from experienced growers, and Chris Callahan from UVM's Extension Ag Engineering.
September 22, 2021 : Wash Water Management
Experienced growers and facilitators dig into the fundamentals of managing produce wash water, including show and tell with lessons learned about wash water management, use and monitoring of sanitizers. All participants leave with a plan to improve/implement new practices.
September 29, 2021 : Tools for Employee Management and Empowerment
Develop management strategies/systems to retain and empower high-value workers, while improving crew morale and culture. Learn from experienced managers of loyal and reliable crews, the pros and cons of their current management systems, and how they came to be. Participants leave with resources and a plan to improve/implement one or more new practices or strategies.
October 6, 2021 : Bubblers/Aerators for Greens Washing
For growers wanting to install or improve a greens bubbler/aerator. Get feedback from growers who built/improved their own systems. Examine designs and DYI resources, as well as perceived quality and efficiency gains from bubblers as compared to other washing methods. This workshop features a panel of New York growers!
Announcements