Organic Production Guides
Robert Hadad, Extension Vegetable Specialist
Cornell Vegetable Program
Last Modified: July 17, 2017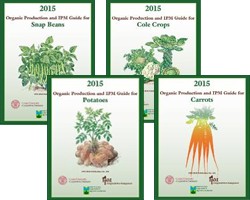 Organic Production Guides for fruits, vegetables and dairy are available through the
NYS Integrated Pest Management (IPM) program
. They outline general practices for growing vegetable and fruit crops using organic integrated pest management techniques.
The guides provide an overall approach for organic production with a focus on biological, mechanical, and cultural controls. Sections on cover crops, resistant varieties, crop rotation, field selection, soil quality and nutrient management all highlight their interrelated qualities and precede specifics on pest management options.
A full list of available guides can be found
HERE
.


Upcoming Events
Sanitation Open House for Fruit and Vegetable Growers
November 29, 2022
Geneva, NY
Come experience several hands-on stations to help jump start and enhance your sanitation program. Try out new cleaning tools, learn how to select the right sanitizer, and assess the cleanability of different equipment.
Farm Food Safety Meeting
December 5, 2022
Newark, NY
This meeting will focus on updates and key considerations in farm food safety. Topics to be covered include agricultural water quality assessments, traceability procedures, tips for improving flow and efficiency in wash/pack facilities, cleaning and sanitation updates, plus plenty of discussion to answer your questions.
GAPs Training -- Understanding Food Safety on the Farm
December 9, 2022
Penn Yan, NY
Join the Cornell Vegetable Program and Cornell Cooperative Extension for a workshop that will provide you with the why's behind food safety recommendations along with practical, farm-based ideas to improve food safety on your farm.
Announcements