Garlic Production in the Northeast (from NOFA NY's Winter Conference, 2015)
April 7, 2016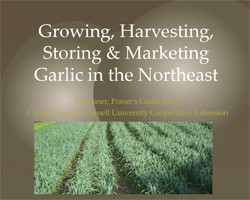 WNY garlic farmer Ed Fraser of Fraser's Garlic Farm and Cornell Cooperative Extension's Crystal Stewart presented at the NOFA-NY Winter Conference. Their presentation titled, Intermediate Garlic Production, focused on more advanced techniques to deliver a consistently high-quality garlic crop, including cover cropping plans, fertility management, weed control techniques, post-harvest handling, and seed selection. Information was based on research results, on-farm trials and experience.
Growing, Harvesting, Storing & Marketing Garlic in the Northeast (pdf; 9615KB)


Upcoming Events
No upcoming events at this time.
Announcements