Resource Guide for Organic Insect and Disease Management
Robert Hadad, Extension Vegetable Specialist
Cornell Vegetable Program
April 1, 2012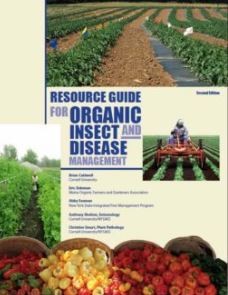 Organic farmers rely primarily on preventive, cultural and integrated methods of pest and disease management. However, there are a number of materials available for use that can complement and support organic management. This guide was developed to provide a useful and scientifically accurate reference for organic farmers and agricultural professionals searching for information on best practices, available materials and perhaps most importantly, the efficacy of materials that are permitted for use in organic systems. Many products available to organic farmers have not been tested extensively, and current research has not been summarized or made widely available to the general producer. A major objective of this guide has been to review recent literature for published trials on material efficacy in order to provide reliable information that can be used by farmers to effectively manage pests. Additionally, a goal was to identify what materials have shown promise but need more research.

For more information about the Resource Guide for Organic Insect and Disease Management and how to order it, click here.




Upcoming Events
Sanitation Open House for Fruit and Vegetable Growers
November 29, 2022
Geneva, NY
Come experience several hands-on stations to help jump start and enhance your sanitation program. Try out new cleaning tools, learn how to select the right sanitizer, and assess the cleanability of different equipment.
Farm Food Safety Meeting
December 5, 2022
Newark, NY
This meeting will focus on updates and key considerations in farm food safety. Topics to be covered include agricultural water quality assessments, traceability procedures, tips for improving flow and efficiency in wash/pack facilities, cleaning and sanitation updates, plus plenty of discussion to answer your questions.
GAPs Training -- Understanding Food Safety on the Farm
December 9, 2022
Penn Yan, NY
Join the Cornell Vegetable Program and Cornell Cooperative Extension for a workshop that will provide you with the why's behind food safety recommendations along with practical, farm-based ideas to improve food safety on your farm.
Announcements