Resource Guide for Organic Insect and Disease Management
Robert Hadad, Extension Vegetable Specialist
Cornell Vegetable Program
April 1, 2012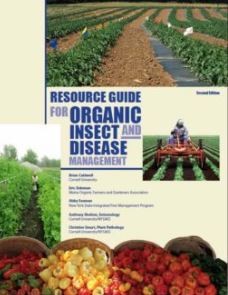 Organic farmers rely primarily on preventive, cultural and integrated methods of pest and disease management. However, there are a number of materials available for use that can complement and support organic management. This guide was developed to provide a useful and scientifically accurate reference for organic farmers and agricultural professionals searching for information on best practices, available materials and perhaps most importantly, the efficacy of materials that are permitted for use in organic systems. Many products available to organic farmers have not been tested extensively, and current research has not been summarized or made widely available to the general producer. A major objective of this guide has been to review recent literature for published trials on material efficacy in order to provide reliable information that can be used by farmers to effectively manage pests. Additionally, a goal was to identify what materials have shown promise but need more research.

For more information about the Resource Guide for Organic Insect and Disease Management and how to order it, click here.




Upcoming Events
Finger Lakes Produce Auction Educational Meeting

January 3, 2019
8:30 AM - 3:00 PM
Penn Yan, NY
This meeting is our annual winter educational event for Finger Lakes Produce Auction growers. This year we focus on disease management in cole crops, strawberries, food safety and greenhouse flowers. 2.0 recertification credits in private vegetable category.
Ontario Produce Auction Winter Growers Meeting

January 9, 2019
9:30 AM - 2:30 PM
Stanley, NY
This meeting is our annual winter educational event for Ontario Produce Auction growers. This year we focus on disease management in high tunnel tomatoes, vine crops and greenhouse flowers. Grower and buyer panels will be presented as well irrigation and plastic mulch. DEC pesticide applicator recertification credits have been requested.
2019 Empire State Producers EXPO

January 15 - January 17, 2019
1.25 hr sessions throughout each day
Syracuse, NY
The 2019 Empire State Producers Expo combines the major fruit, flower and vegetable associations of New York State in order to provide a comprehensive trade show and educational conference for New York producers, as well as the surrounding states and Eastern Canada.
Announcements
Checklist for Cleaning a Root Barrel Washer
Don't miss those hard-to-reach places in your root barrel washer! Here is a
checklist
of areas to remember to clean to obtain an acceptable level of cleanliness completed in a reasonable about of time. Critical cleaning points are identified.
Cornell Vegetable Program - Cornell Cooperative Extension
Your Trusted Source for Research-Based Knowledge