High Tunnel Pepper Variety Trial, 2011
Judson Reid, Extension Vegetable Specialist
Cornell Vegetable Program
February 1, 2012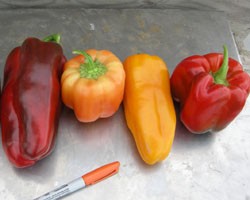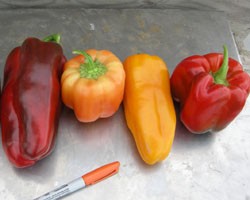 Peppers offer a viable option to tomatoes for commercial production in high tunnel greenhouses. In 2011 the Cornell Vegetable Program partnered with Harris Seed, Inc. to evaluate five varieties in a cooperating grower unheated high tunnel.
The peppers evaluated in 2011 performed very similar in total yield per plant as measured by pounds. When we look at fruit size and weight we do find differences that can help growers make choices in variety. When selling by the piece, in a retail setting, varieties such as Yellow Crest would work well. For wholesale accounts varieties such as Gordo will fill bushel boxes faster. Sandpiper, a slightly smaller fruit than the other bell peppers is this trial, gave very good yields and offers a nice color spectrum. High tunnels are a great tool for vegetable growers to increase quality and color of bell peppers. Total economic performance per square foot is much less than tomatoes. However, labor inputs are also lower. Although not a perfect rotational crop with tomatoes, peppers are not a host for Fulvia Leaf Mold, and are less likely to harbor Two Spotted Spider Mites. We encourage growers to consider peppers in high tunnels for increased quality and yield.
Read full report (pdf; 828KB)


Upcoming Events
SCRUB Twilight Workshop Series
September 1, 2021 : Bin Blitz
Experienced growers and UVM's Ag Engineering present new strategies and cleaning tools to increase the efficiency and efficacy of bin cleaning, sanitation and management practices. Lead growers show and tell their bin systems, with lessons learned. Participants leave with a plan to improve/implement new practices.
September 8, 2021 : Low Cost and High Value
Evaluate low-cost (either money or time) improvements that make a big difference. Experience growers show and tell the thrifty improvements they made and summarize lessons learned, including trade-offs of spending money (or not) to lower risks and increase efficiency.
September 15, 2021 : Wash/Pack Floors
Learn to improve or repair a concrete floor so that it is smooth and easy to clean. This workshop highlights concrete repair, cleaning and sanitation techniques, water management, products and resources, as well as show and tell from experienced growers, and Chris Callahan from UVM's Extension Ag Engineering.
September 22, 2021 : Wash Water Management
Experienced growers and facilitators dig into the fundamentals of managing produce wash water, including show and tell with lessons learned about wash water management, use and monitoring of sanitizers. All participants leave with a plan to improve/implement new practices.
September 29, 2021 : Tools for Employee Management and Empowerment
Develop management strategies/systems to retain and empower high-value workers, while improving crew morale and culture. Learn from experienced managers of loyal and reliable crews, the pros and cons of their current management systems, and how they came to be. Participants leave with resources and a plan to improve/implement one or more new practices or strategies.
October 6, 2021 : Bubblers/Aerators for Greens Washing
For growers wanting to install or improve a greens bubbler/aerator. Get feedback from growers who built/improved their own systems. Examine designs and DYI resources, as well as perceived quality and efficiency gains from bubblers as compared to other washing methods. This workshop features a panel of New York growers!
Announcements