Best Management Practices in High Tunnel Production: Site Selection
Elizabeth Buck, Extension Vegetable Specialist
Cornell Vegetable Program
Last Modified: November 28, 2016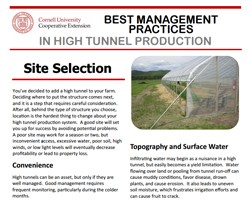 Deciding where to put a new high tunnel requires careful consideration regarding sun and wind exposure, access to water, drainage and the best possible soil. A good site will set you up for success by avoiding potential problems.
Download the PDF for details on optimizing your high tunnel site selection.
Best Management Practices in High Tunnel Production: Site Selection, May 2014 (pdf; 224KB)


Upcoming Events
Chipping Potato Twilight Meeting

August 25, 2022
Dansville, NY
View the chipping potato variety trial and hear updates from Walter De Jong of Cornell! Mike Mager of Arctic Refrigeration will provide updates in potato storage. Brian Nault, Cornell, and Margie Lund, CCE, will talk about insecticidal rotations for Colorado potato beetle and other potato insect updates. 1.0 DEC (categories 1a, 10, 23) recertification credits are available.
Announcements