Best Management Practices in High Tunnel Production: Optimal Tomato Spacing
Judson Reid, Extension Vegetable Specialist
Cornell Vegetable Program
December 2, 2015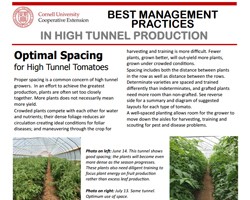 Proper spacing is a common concern of high tunnel growers. More plants does not necessarily mean more yield. Determinate varieties are spaced and trained differently than indeterminates, and grafted plants need more room than non-grafted. A well-spaced planting allows room for the grower to move down the aisles for harvesting, training and scouting for pest and disease problems.
Download the PDF for details on how to optimize your high tunnel tomato spacing.
Best Management Practices in HT Production: Optimal Tomato Spacing, April 2013 (pdf; 550KB)


Upcoming Events
SCRUB Twilight Workshop Series
September 1, 2021 : Bin Blitz
Experienced growers and UVM's Ag Engineering present new strategies and cleaning tools to increase the efficiency and efficacy of bin cleaning, sanitation and management practices. Lead growers show and tell their bin systems, with lessons learned. Participants leave with a plan to improve/implement new practices.
September 8, 2021 : Low Cost and High Value
Evaluate low-cost (either money or time) improvements that make a big difference. Experience growers show and tell the thrifty improvements they made and summarize lessons learned, including trade-offs of spending money (or not) to lower risks and increase efficiency.
September 15, 2021 : Wash/Pack Floors
Learn to improve or repair a concrete floor so that it is smooth and easy to clean. This workshop highlights concrete repair, cleaning and sanitation techniques, water management, products and resources, as well as show and tell from experienced growers, and Chris Callahan from UVM's Extension Ag Engineering.
September 22, 2021 : Wash Water Management
Experienced growers and facilitators dig into the fundamentals of managing produce wash water, including show and tell with lessons learned about wash water management, use and monitoring of sanitizers. All participants leave with a plan to improve/implement new practices.
September 29, 2021 : Tools for Employee Management and Empowerment
Develop management strategies/systems to retain and empower high-value workers, while improving crew morale and culture. Learn from experienced managers of loyal and reliable crews, the pros and cons of their current management systems, and how they came to be. Participants leave with resources and a plan to improve/implement one or more new practices or strategies.
October 6, 2021 : Bubblers/Aerators for Greens Washing
For growers wanting to install or improve a greens bubbler/aerator. Get feedback from growers who built/improved their own systems. Examine designs and DYI resources, as well as perceived quality and efficiency gains from bubblers as compared to other washing methods. This workshop features a panel of New York growers!
Announcements