Best Management Practices in High Tunnel Production: Optimal Tomato Spacing
Judson Reid, Extension Vegetable Specialist
Cornell Vegetable Program
December 2, 2015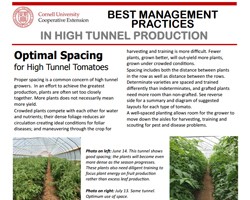 Proper spacing is a common concern of high tunnel growers. More plants does not necessarily mean more yield. Determinate varieties are spaced and trained differently than indeterminates, and grafted plants need more room than non-grafted. A well-spaced planting allows room for the grower to move down the aisles for harvesting, training and scouting for pest and disease problems.
Download the PDF for details on how to optimize your high tunnel tomato spacing.
Best Management Practices in HT Production: Optimal Tomato Spacing, April 2013 (pdf; 550KB)


Upcoming Events
Chipping Potato Twilight Meeting

August 25, 2022
Dansville, NY
View the chipping potato variety trial and hear updates from Walter De Jong of Cornell! Mike Mager of Arctic Refrigeration will provide updates in potato storage. Brian Nault, Cornell, and Margie Lund, CCE, will talk about insecticidal rotations for Colorado potato beetle and other potato insect updates. 1.0 DEC (categories 1a, 10, 23) recertification credits are available.
Announcements