Cold Storage Chart and Reference Guide to Commercial Vegetable Storage
Robert Hadad, Extension Vegetable Specialist
Cornell Vegetable Program
December 13, 2016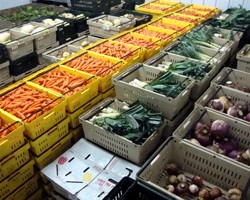 In the Cold Storage Chart and Reference Guide, vegetable growers will find storage information by crop with temperature and relative humidity recommendations. The maximum number of weeks that the crop can be held under ideal conditions is provided as well.

Additionally, adapted from the USDA Bulletin #66, The Commercial Storage of Fruits, Vegetables, and Florist and Nursery Stock, growers of the following vegetables will find information on quality, grading, sizes, and packaging, chilling and storage, and post-harvest pathology:
Asparagus
Bean
Beet
Broccoli
Brussels Sprouts
Cabbage
Carrot
Celeriac
Cucumber
Eggplant
Lettuce and Other Greens
Onion
Pepper
Squash
Sweet Corn
Tomato
Turnip and Rutabaga
Cold Storage Chart and Reference Guide (pdf; 375KB)


Upcoming Events
2023 Potato Advisory Meeting

December 12, 2023
Canandaigua, NY
This year's Potato Advisory Meeting will include talks from Cornell faculty on insect pest and weed updates, as well as updates from this year's potato variety trials. Following lunch, there will be a round table discussion with fellow potato growers and industry members. DEC credits: 2.0 credits in 10, 1a, 23. This meeting is FREE to attendees and includes lunch!
2024 Finger Lakes Produce Auction Winter Growers Meeting

January 4, 2024
Penn Yan, NY
This annual meeting will present information on insect and disease management in fresh market vegetables in both field and greenhouse (high tunnel) vegetables, primarily for those growing for wholesale auction. Grafting, biological and, where appropriate, conventional spray options will be discussed. Berry production updates will be provided. A general session will include updates from the Food Safety Modernization Act. Judson Reid, Senior Extension Associate with the Cornell Vegetable Program along with CCE staff will instruct participants and facilitate peer-based learnings. DEC recertification credits will be offered.
Announcements